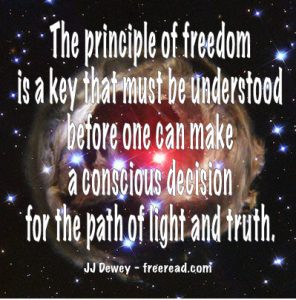 Freedom- An Attribute of the Right
So, what are other freedoms overlooked by the Left?
We go through cycles where the political left and right take their turn in pushing us in the Right direction. Sometimes the Left pushes too far and nudges us toward the Left hand path and sometimes the Right goes too far and brings progression to a halt by too much focus on the past.
At present the political left is placing a dangerous amount of energy on limiting freedom and they are attacking the most precious freedom of all which is freedom of speech. If we lose that we will lose all of our important civil freedoms.
When I was in college in the Sixties the Left was very big on free speech. The popular bumper sticker of the day for them was "Question Authority." They often quoted the famous statement, "I disapprove of what you say, but I will defend to the death your right to say it."
Today the left has shifted around 180 degrees on this view and it all began with political correctness. They started putting a lot of attention on speech that could be offensive and then telling the rest of us that we shouldn't say certain words.
Many made fun of them and came up with humorous lists of politically incorrect things to say.
Here is just one list. LINK
Many saw this approach as obnoxious, but few saw it as dangerous.
Well, the danger has come full circle illustrated by the demands of some college students lately. Students at Yale are demanding restrictions on Halloween costumes, Brown University students are demanding "anti-oppression training" for college employees, Princeton students want former president Woodrow Wilson's name and image removed from campus and in Columbia. They are traumatized because the class material is not diverse enough. They are demanding that conservative commentators not be allowed speak on campus. Make America great hats are called symbols of hate and those who wear them are attacked or banned. Students at George Washington High in San Francisco felt traumatized by a longstanding mural of the first president and wanted it covered up.
Larry Summers, esteemed president of Harvard who has always leaned left was forced to resign for just making the true observation that males at his school perform better at math than females, ending with the statement, "there is a difference in the standard deviation and variability of a male and female population."
One of the most bizarre attacks occurred when Smith College president Kathleen McCartney as well as Maryland Gov. Martin O'Malley got in big trouble for saying that "all lives matter" when they should have just stuck to the mantra "black lives matter."
Students and much of the general population that lean left are now so offended by free speech that they support curtailing it by force of law.
A new Pew Research Center poll shows that 40 percent of American Millennials (ages 18-34) are likely to support the force of law to prosecute public statements offensive to minorities.
Even more egregious is that a 2015 Rasmussen poll revealed that 27% of Democrats and 11% of Republicans want global warming skeptics prosecuted for speaking against standard global warming theory. An additional 15% of the general public do not side with free speech and are not sure if skeptics deserve free speech.
In the UNESCO division of the United Nations they recommend prosecuting organizations "devoted to organized climate denial." If this were to happen then the only research that would be permitted would be that which supported a warming planet due to human activity only. That would be comparable to the ancients only allowing research into a flat earth. Round earthers must be rounded up. LINK
Hillary Clinton gave a strong indication where her loyalties to free speech lie. She attended the famous Laugh Factory in Los Angeles and didn't like some of the things the comics humorously said about her. When some of the video was placed on their website she insisted they be taken down and wanted the identities of all the comics. The owner, Jamie Masada, said:
"They threatened me, I have received complaints before but never a call like this, threatening to put me out of business if I don't cut the video."
A generation ago, when nudity, drug use and cuss words were being pushed upon us through movies and other media the Left often defended free speech and criticized the conservatives for opposing it. Now things have changed. Now conservatives rarely stand in the way of offensive speech while the Left is marching toward alarming restrictions putting the First Amendment at risk.
DK never said anything in any of his works in favor of restricting speech that may merely offend. He, of course, advised students to be wise in their speech, but never advocated force to restrict public discourse.
"No matter what past history may indicate in connection with many of the allied nations (past aggressions, ancient cruelties and wrong doing), they were and are today (during WWII) seeking to cooperate with the Forces of Light and are endeavouring to salvage human freedom political, religious and economic." Destiny of the Nations, Page 100
It looks like we are reaching a point where these freedoms may need to be salvaged again.
Time and time again DK placed emphasis on free speech and goodwill.
"The forces of death are abroad today, but it is the death of liberty, the death of free speech, the death of freedom in human action, the death of truth and of the higher spiritual values. These are the vital factors in the life of humanity; the death of the physical form is a negligible factor in relation to these, and one easily righted again through the processes of rebirth and fresh opportunity." Externalization of the Hierarchy, Page 232
The disciple must "gain that control of speech which has often been your goal but seldom your achievement, and remember that the most powerful factor in the control of speech is a loving heart. Wild and fearful talk, hateful gossip, cruel innuendo, suspicion, the ascribing of wrong and wicked motives to persons and peoples, and the divergences of attitude which have separated the many different nations in the world are rampant today and have brought the world to its present distressing situation. It is so easy to drift into the same habits of speech and thought which we find around us and to discover ourselves participating in attack and the spirit of hate. Guard yourselves strenuously against this and say nothing which could inflame hate and suspicion in connection with any race, any person, any group or any leaders of groups and nations." Externalization of the Hierarchy, Page 82
Freedom, A Pearl of Great Price
It is bad enough that free speech is under attack, but in addition to this almost every freedom our forefathers fought for is being diminished.
The Second Amendment, the Right to keep and bear arms, comes under renewed attack whenever some crazy guy goes on a shooting spree. Yes, there are some accidents and homicides due to guns, but many more deaths and serious injuries due to car accidents. But no one calls for the banning of cars.
Why?
Because their usefulness far exceeds the damage they cause.
And what is the usefulness of guns?
The main one, which was enunciated by our founders, was not for hunting, but to keep us free. A government will be nervous taking us too far toward tyranny if its citizens are armed and other nations would think twice about invading us when the citizens are armed with a couple hundred million guns.
We need to recall that the worst killing spree that has happened on American soil was caused, not by guns, but by 19 men with box cutters who hijacked airplanes. Yet no one called for the banning of air travel.
Again, even with great disasters now and then air travel brings much more benefit and freedom than it takes away.
Big Brother has been taking away freedoms in many other ways. If you count all the hidden taxes the average taxpayer pays more than 50% in taxes.
Government borrowing and charging the reckless debt to you and me and our children is another great inhibitor.
Excessive laws and regulations are suffocating many just trying to make a living.
Other freedoms at risk are our religious freedoms, a free unregulated internet, freedom from excessive and frivolous lawsuits and just a general freedom to speak and act with out of the box ideas.
DK supported the Allies against Hitler to secure freedoms necessary to insure the coming of the New Age, but I would suppose he would be concerned today as he surveys the current situation.
Yes, some things have improved, but it will all be for nothing if we were to lose our freedoms. We must ever remember these great words emphasized by numerous Founding Fathers including Jefferson.
"Eternal vigilance is the cost of liberty."
DK Quotes on freedom:
For the first time in human history, the lines of demarcation between that which is right from the angle of the spiritual values (the essential freedom of the human spirit) and that which is wrong (the imprisonment of the human spirit by materialistic conditions) are clearly perceived by the majority of the nations of the planet. (Understanding of Humanity after WW II) Discipleship in the New Age Vol II, Page 220
"The freedom of humanity and the liberation of its power to be self-determining (which is an aspect of freedom) has become the dearest ideal and the best thought of the thinkers in all nations. In the last analysis, it is this interference with individual and group freedom which is the worst sin of the evil men." Externalization of the Hierarchy, Page 266
Nothing of true value is to be gained by any arbitrary or autocratic activity on the part of the spiritual Hierarchy. That is one of the lessons to be learnt, as the work of the totalitarian powers—in the past and today—and its effects are noted. Under the totalitarian system, freedom is curtailed or abolished, the free will of the individual is denied and prevented expression, the individual is regarded as the appurtenance of the all-powerful State and held in that position by police regimentation; individual development is of value only in so far as the interests of the State are served, but the individual himself—as an independent divine unit of humanity—is non-existent, from the totalitarian point of view. Would you, therefore, have the spiritual Hierarchy of our planet work along totalitarian lines, enforcing peace and comfort, taking steps to arrest evil by force and working for the material well-being of men? Or would you have the Masters lead humanity itself, through right understanding, to take the needed action, even if it involves trial and error and a much slower process? Would you have mankind standing on its own feet as intelligent agents of the divine Plan? Or would you have them treated as irresponsible children who must be energetically protected against themselves? Is it not better for the rapidly awakening intelligence and activity of men (in every land) to be trained to recognise the essential unity of all human beings, and so be led to take the action needed which will endorse that unity, which will work for the entire group of human beings in all lands everywhere, and which will also and at the same time preserve the individual and the national cultures, alongside a universal civilisation and a world-wide system of divine recognition? It is toward this general freedom and the intelligent activity of the free individual that the Hierarchy is steadily and successfully working; the concept of unity and of united activity for the good of all is far more widely grasped and understood than you perhaps realise. The totalitarian approach works toward an imposed unity and one which will include all peoples and bind them down to a uniformity of belief—politically, economically and socially—and which will and does basically ignore the spiritual values, putting the State in the place of that divine spiritual centre where spiritual reality is to be found. Externalization of the Hierarchy, Pages 670-671
"The material goal which all who love their fellowmen and serve the Hierarchy must ever have in mind and at heart is the defeat of totalitarianism. I do not say the defeat of Communism, but the defeat of that evil process which involves the imposition of ideas, and which can be the method of the democratic nations and of the churches everywhere, just as much as it is the method of the U.S.S.R. This we call totalitarianism. I would ask you to have this distinction clearly in your minds. Your material goal is the defeat of all that infringes human free will and which keeps humanity in ignorance; it applies equally to any established system—Catholic or Protestant—which imposes its concepts and its will upon its adherents. Totalitarianism is the basis of evil today; it is found in all systems of government, of education; it is found in the home and in the community. I refer not here to the laws which make group relations sound, possible and right; such laws are essential to community and national well-being and are not totalitarian in nature. I refer to the imposition of the will of the few upon the total mass of the people. The defeat of this undesirable tendency everywhere is your definite material goal. Externalization of the Hierarchy," Page 701
"Freedom is an essentially spiritual attribute, underlying the entire evolutionary process; this should always be remembered as a strengthening and conditioning reality by all men everywhere. It has survived aeons of opposition from the principle of enslaving selfishness and is largely responsible, at this time, for the struggle in which we are all participating." Rays and Initiations, Page 428
Copyright by J J Dewey
Easy Access to All the Writings
For Free Book go HERE and other books HERE
JJ's Amazon page HERE
Gather with JJ on Facebook HERE