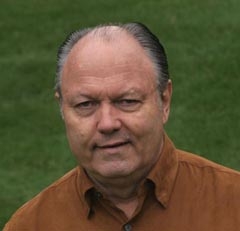 JJ has spent the majority of his childhood and adult life in Idaho (USA).  He presently resides with his wife in Boise, Idaho where he has run a business for many years.
JJ is an author and lecturer and is best known for his books from the "Immortal" series. The first is The Immortal, Books 1 & 2 published in 1998. These were followed by The Lost Key of the Buddha (Book 3) and Eternal Words (Book 4). He has written numerous other books that he prints on demand for those who want to read more.
These are:
"The Keys of Knowledge, Vols 1-6"
"The Gathering of Lights"
"The Gods of the Bible"
"The Molecular Relationship"
Two books soon to be released are The Unveiling and Molecular Politics. The published books are currently available on this site.
About The Keys Of Knowledge
The Keys of Knowledge spiritual discussion group was created in 1998 in order to discuss    J J Dewey's book "The Immortal." The original list was hosted on Spiritweb, but later migrated to Yahoo Groups when Spiritweb closed.
You do not have to join "The Keys" nor join Yahoo Groups in order to visit and read what JJ and others post there. However, as a member of "The Keys" you will be able to directly ask questions of JJ that you might have about his writings and teachings.
All are invited to join us at the The Keys Group at Facebook.
About The (Keys) Archives — And This Website (FreeRead.Com)
The portion of the website which is often referred to as "The (Keys) Archives," is where posts to both discussion groups made by JJ Dewey mentioned above are now archived. The content of the original post has been extracted and reformatted into an easy-to-read, web browser friendly document which is referred to as an "article." Included in these archived articles are also all the chapters from several complete books which he as written. There are also many other extended essays and treatises on subjects as diverse as:   metaphysics; religion; spirituality; popular social, interpersonal, and relationship issues; nuclear power; alternative energy; the environment; politics; and global warming. In addition to the links found in the standard Keys Archive Index, links to the chapters of JJ's books, and links to essays, treatises, and other popular topics written by J. J. Dewey have been gathered together into subjective collections and placed in a three part sub-section of the "Keys Archives" entitled: "From The Archives."
You also might want to check out the Book of Quotes giving quotes from JJ on a wide range of subjects.