The Imm

ortal, Book I – Free MP3, TEXT or PDF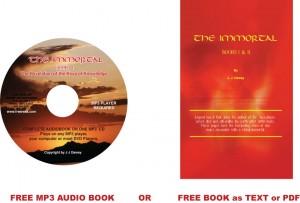 A BOOK THAT TOUCHES THE SOUL!
The Revelation of the Keys of Knowledge
OUT OF THE THOUSANDS OF FREE BOOKS ON THE WEB THERE IS NOT ONE THAT WILL HOLD YOUR ATTENTION LIKE THIS ONE!
The Immortal is the story of an average truth seeker who stumbles across a fascinating teacher, only to discover that the man is John, the Beloved, the Revelator, an Apostle of Jesus, perhaps the most mysterious man in history, comes alive in this book. Legend has it that John never died and still roams the earth as a teacher. John finds JJ Dewey, the main character, to teach him the Twelve Keys of Knowledge to prepare the world for the new age of peace. The first question addressed in Book I is WHO OR WHAT AM I? The student gives all the standard answers…and they are all wrong. The lead character then realizes he is under the tutorage of no ordinary teacher and must apply himself in a quest for knowledge.
Free Audio Book on CD

– Order a free CD containing a copy of "The Immortal I" in MP3 (podcast) and PDF (text) file formats. As an extra bonus, the CD also contains seven original songs written by the author himself (see ordering information below).
Free Online Sources

JJ's Amazon page HERE
Gather with JJ on Facebook HERE
Snail Mail Address for Great Ad-Ventures
PO Box 8011
Boise, ID 83707
Free mailing limited to residents of US and Canada only