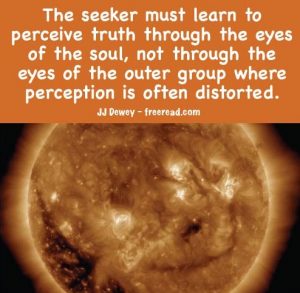 11/12/1999
What is the Soul?
The Bible states that God breathed the breath of life into Adam and he became a living soul.
On the other hand, the word soul is often used synonymously with Spirit, or that which leaves our body at death. Other teachers use it when referring to our Higher Self.
Soul, in a way is that point of oneness that many have referred to. Soul energy occurs when spirit interplays with matter. Thus when God placed Spirit in matter and there was interplay soul (or living soul) was the result. Soul is that point by the sea where land and water meet which is neither wet not dry, but where wet and dry interlay.
Our Higher Self as well as the Masters use the medium of soul as a means of communication with us. Thus when a disciple says he has received something through or from the soul it could be from either his higher self or a Master.
The internet is an imperfect correspondent to the soul. When we say we received something from the Internet you did not really receive it from the Internet. In reality the Internet is a medium with no form. You really received the information from another person through the medium of the Internet. In the same way a disciple is likely to say he receives from the soul when he really receives through the soul from some higher intelligence.
When a regular writer talks about the soul you must examine the context in which he uses it so you can follow his train of thought. As I said, soul is often used interchangeably with a number of things, but a spiritual internet medium is perhaps the most common used by disciples.
There are two main aspects of soul. The first is that spiritual medium that links us to higher lives. The second and not so well understood is the interplay between spirit and matter within the atomic lives who are so evolved on their own plane that they oscillate between spirit and matter and thus create the energy of soul that builds and maintains the forms for the greater lives. This knowledge will be expanded upon in the future.
Question: What is the best way to deal with problem children who seem to inherit negative patterns?
I believe that it is true that we pick up negative influences and programming – something like implanted hypnotic suggestions and they have a strong influence over many. Beyond traditional therapy, the way to overcome these influences is through mental development and then soul contact. The mind can learn to recognize negative influences and override them, but the soul can bypass them completely allowing the soul infused personality to live his life as if there is no past that can control voluntary action.
The short answer is that the best thing one can do with children is to guide them as close as possible toward the spiritual life.
Comments on Nations
Nations are great individual entities and are a lot like people and as such are responsible for their own destiny just as you and I are. It is true that some other nations attempt to influence them negatively just as other people try to influence you and I. Nevertheless, I do not blame anyone but myself for my mistakes. Nations also must take responsibility for whatever situation they find themselves in.
I'm sure that Russia and China are as nervous about the U.S. and NATO as we are about them. Therefore we should take action to increase stability.
If the people of a nation are willing to follow the path of least resistance which allows for totalitarianism then their consciousness will draw it to themselves no matter what form of government exists on paper. Thus, if they did not have communism as a totalitarian government they would have had some type of monarch or dictator which would have restricted freedoms in the same way.
There are some nations which have a democratic government on paper but in reality they have totalitarian dictatorships because their consciousness is not prepared for freedom.
At present I am concerned about the U.S., UK and Europe for their sense of freedom is being dumbed down creating a dangerous situation for ourselves. The price of freedom is eternal vigilance.
I believe a representative or democratic form of government is a big leap forward over totalitarian regimes. Never in history has a stable democratic country made war with another one. Even though the U.S. irritates France and the French sometimes irritate us there is close to zero chance we will ever nuke each other. This would only be a danger if one of us had some type of dictator surface. Freedom respects freedom. Our nations are not perfect, but there is enough freedom to create stability between us.
I do believe that the United States Constitution is a light to the world, but this document also owes a great debt to England and France as well as some inspiration from Indian tribal government.
When my nation does something right, I will support them, and there are some things they do which is beneficial to the world. But when my nation goes in the wrong direction I will not support it just because I happen to live here.
As far as Hollywood goes. It is not all bad either. They gave us Yoda.
I stand by my statements on Russia and China. I did not call them evil, but dangerous. Russia is experimenting with democracy just as Germany was before World War II. They also have many political parties vying for leadership just as Germany did making it possible for a fringe group to take control as the Nazis did in Germany. If I remember right Hitler only received 23% of the vote. If a majority were required he could have never become chancellor.
China is dangerous because the leadership there would like to take Taiwan back by force if necessary. If this first aggression were to occur the leadership of both the U.S. and France may feel it necessary to go to war. Without a first aggression there would never be a second one. There is about a 50/50 chance China will make a first aggression here and that my friend is a dangerous situation.
All for one…
The fourth Ray is very strong in this group. This is the Ray governing the principle of harmony through conflict. This fourth ray along with the fifth governs humanity itself and is the primary ray influencing the whole of Planet Earth. This is one of the reasons that we humans have such difficulty escaping its influence. The goal of the Brotherhood at present is not to eliminate all conflicts, but to shift the center of conflict from the physical plane to the astral and mental. Once this is accomplished we will at least escape the danger of blowing ourselves up.
Nevertheless, in the coming age of peace, primary conflicts will be eliminated from the physical plane, but they will be intensified on higher planes. The interesting thought about all this will be that there will be some realization that harmony is derived from conflict and the lights of the race will see harmony as the end of all enlightened conflicts. Some of those who lack spiritual vision will wonder when all the peace is supposed to break out.
Nevertheless, if the age of peace unfolds as planned it will be a great improvement over what we have today.
Today many look back at Columbus and the early explorers, the founders of the U.S. Constitution and other innovative thinkers and find much fault with them because they did not seem to stand up for some of the things we consider today as "good." But a 1000 years from now humanity will look back at us and wonder why we lived in such a veil of ignorance and followed the current beast with such non thinking obedience.
All historical initiates must be judged by the times they lived in just as it is hoped we will be.
Acceptance
Having a completely open and inclusive list such as this has it's place, but having a true teaching situation where everyone wants to learn is also a positive thing. In order to have a positive situation where the concentration is on learning then others who wish only to teach and those who do not wish to learn must be excluded.
Exclusion is not always a bad thing. It also has it's positive aspect.
When DK did his work through Alice A. Bailey he selected 50 students and excluded all the rest of the aspirants. Then when a student caused a problem he dropped them from the group. This was necessary for him to accomplish his work.
Nevertheless, to be inclusive to the highest possible degree is always the goal and for this cause I stay in this group and encourage openness to all. This prevents the exclusion of a true seeker who may be overlooked by an exclusive list.
On the other hand, those who merely seek to learn and don't want to deal with conflict will have a place to go.
Copyright by J J Dewey
Index for Older Archives in the Process of Updating
Easy Access to All the Writings
For Free Book go HERE and other books HERE
JJ's Amazon page HERE
Gather with JJ on Facebook HERE