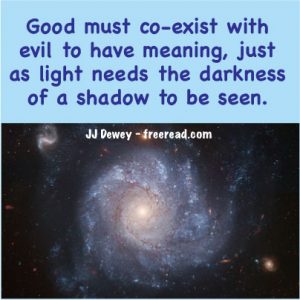 Discernment 1.1
First Question: The scripture says: "And the Lord God said, Behold, the MAN IS TO BECOME AS ONE OF US, to know good from evil." Gen 3:22
How do we become as one of the gods and obtain the power to discern good from evil? How can we read the words of a teacher and come away knowing we have discerned that which is good and that which is evil?
In other words, what is the principle behind the discernment of good and evil?
Second Question: Let us suppose you discovered three things as definite truth.
(1) That Jesus was a fictional character.
(2) That Alice A. Bailey made up the character of Djwhal Khul and wrote all the books using her own wisdom.
(3) That I was in cahoots with the devil.
If you discovered these three things to be true how would it change that which you have valued as true coming from the New Testament, the Writings of Alice A. Bailey and my teachings to you?
These two assignments may seem quite different but they are actually quite closely related in what they reveal.
Notice the scripture tells us that man will become as "one of us" (the Gods, Elohyim) and the key to this achievement is to learn "to know" or discern good from evil.
It is interesting to note that the Bible tells us that God called prophets to warn the people during times when it was written the peopled called "evil good, and good evil; they put darkness for light, and light for darkness; and put bitter for sweet, and sweet for bitter." (Isa 5:20) The scriptures further say: "There is none that doeth good, no not one." (Psalms 14:3)
In other words, the seeing of that which is truly good or evil is so subtle that there have been times that the whole population of the world was deceived about it.
Why is it that people are so deceived about good and evil? The answer is quite simple. They do not use the Second Key of judgment and instead seek to place that which is good under strict black and white guidelines and that which is evil under another set.
For instance, many today say that war of any type is evil and pacifism is good with no exceptions. Putting good and evil in a little box like this removes all power of thought, judgment and soul contact from the equation and sets the person up to be one of those who can no longer see, or know, good and evil.
Was it good to go to war and defeat Hitler? Would it be good to go to war to prevent another Hitler? Yes, of course. There is a time and place for all things. If we take an action and condemn it as always evil it will only be a matter of time before the action enters the "season" where it will be good. At that time this non thinker will find himself supporting the evil and opposing that which is good.
Now let us go back to the days of Jesus. What were some of the black and white criteria to determine the good?
One of the main ones was obedience to the Sabbath. Moses said do no work on the Sabbath and by damn no work means no work. When Jesus and his disciples strolled through a wheat field and they grabbed a few handfuls to eat that was seen as work – therefore Jesus was evil.
Jesus also worked on the Sabbath to heal and this verified again (to many) that he was evil.
Now we may think that if we had been alive in 1938 we would have seen that it was good to stop Hitler or had we lived in the days of Jesus we would have surely not been one of the many who condemned him.
Good and evil is much easier to see on hindsight than when we are actually facing it.
Why?
Because the vast majority of mankind have their criteria for what is good and what is evil written in stone allowing no room for personal judgment on the matter.
Here are some examples where people will reject the whole of a teaching or belief as being evil.
"He doesn't accept the real Jesus, therefore, he is in league with Satan."
Of course, for this person the real Jesus is Jesus according to his interpretation – or one that was taught him.
"Anyone who believes in a 'new world order' is on the side of evil."
It is interesting that many reject the Alice A. Bailey writings because DK uses this term. On the other hand, does not the Bible itself tell us a new world order is coming? A new world order can be good or evil. The phrase is neither.
"He doesn't follow the literal constitution and is one of those who is destroying our country."
The U.S. Constitution is a great document and the principles are sound, but there are also many good ideas that one may miss if he is too strongly fixated on it.
"Talk radio is hate radio so I will reject all that comes from it."
Talk radio has both good and bad ideas. We do not want to miss the good ones because we think we have put evil in a box.
"Anyone who supports cutting down trees in our pristine forest is evil."
This narrow attitude may cause one to miss the good that can come through wise logging in our public forests. Patrick Moore, a founder of Greenpeace, currently teaches common sense forest management for maximum health that includes intelligent logging. Like many initiates, he is rejected by those who replaced him.
There are those who come across my writings and see some things that conform to their idea of good and then think "this JJ: is on the side of Christ so I will believe all he says."
But then they may come across a phrase, a teaching or a sign that fits in their criteria of evil and will instantly turn around and reject every word I write because I am now "evil."
The point to these examples is this. If we put good and evil in a black and white box then eventually there will come a time that we will find ourselves supporting the evil and fighting the good. What we must do instead is to understand the principle behind good and evil and follow the principle instead of judging by a piece of data or catch phrase.
In the past we have quoted DK and stated that the principle of good and evil is this. Good is that which takes us forward in evolution/progress and evil is that which attempts to pull us backwards.
By this principle then the terrorists who want to take us back to the seventh century are evil for this would strip humanity of much of the positive progress they have made.
But seeing this principle takes judgment because if our generation is corrupt then the past may represent a higher point in evolution than the present.
This just illustrates to us that tunnel vision cannot consistently see the good.
How then do we discover the power of the gods and truly discern good and evil? And once we obtain this power can our appreciation for the good be shaken even if we discover that one of our cherished beliefs is turned upside down?
To be continued…
"Committee–a group of men who individually can do nothing but as a group decide that nothing can be done." Fred Allen (1894 – 1956)
May 12,  2004
Copyright by J J Dewey
Easy Access to All the Writings
For Free Book go HERE and other books HERE
JJ's Amazon page HERE