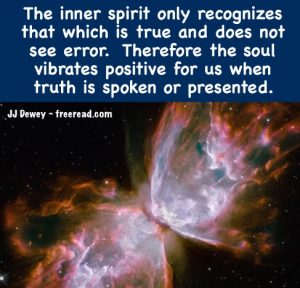 Oneness Through the Soul
QUESTION: For what purpose does a Hierarchy exist? If unity and common purpose can be achieved theoretically with universal 'soul contact' why is a hierarchy of Gods necessary?
JJ: Soul contact is just the beginning of an endless journey. Just because we participate to a degree in the oneness principle does not mean that we have achieved all there is to achieve. When we become members of the Kingdom of God all knowledge is available to us if we earnestly put our attention on it, but which knowledge to bring into our sphere and what to do with it is an eternal process.
Consequently if there be two people upon the Path one will be in a different location than the other. If we are left to our own devices we will stumble on the path or wander off in strange directions in the dark. Sacred writings are given to us to help, but we often misinterpret them. The greatest aid to us is someone who has already taken the step we desire to take. This person knows all the pitfalls and most importantly he can testify that the step is really there to be taken.
Just as we earlier discussed the "snowflake principle" pointing out that no two snowflakes are the same, even so there is hierarchy in all things with each person playing a different part unique to creation.
There is a Hierarchy in all things because there is a universal need for hierarchy. This need is recognized by the brothers on both the right and left hand paths, but their approach is different. Those on the left use hierarchy to control and service is expected to the hierarchy.
Those on the right use hierarchy as a means of service to the struggling lives and maximum free will for the individual is encouraged.
Without hierarchy there would be no cohesive plan for the eternal progress of mankind and individual lives. It would be each person for himself with no one to show us the way. There would be no Christ, no Buddha, no great teachers in our history who are all participating in hierarchical endeavor.
Question: Can we have an awareness of the imperfections of another yet still see the perfection within? How is this possible?"
Sometimes it is just as difficult to see Christ in a loved one who says an unkind word as it is a rapist. But to see Christ in a person who does harmful things is not to accept or condone their actions. You do not pretend that the person is innocent. Instead you do not put attention on the negative but place full attention on the Christ within. When you do this your personal world will be transformed and you will be saved by the presence of Christ.
Saved? I can see some believer's hair stand on end here.
Yes saved, but remember there are many things to be saved from.
When we see the Christ in our brother instead of seeing imperfections to hate we feel love and we are saved from this negativity.
This process must begin unilaterally. You can't wait around for your brother or sister to see Christ with you. You must apply the principle first, just as Jesus said: "You love me because I first loved you."
I think the key word here is to look beyond the imperfections in the other to see the soul. This is difficult to do, but if we practice it daily the rewards will be great. Just ask my wife. She gets a lot of practice on me.
Question: The scripture says: They shall see eye to eye when the Lord shall bring again Zion. How can a group see eye to eye without the imposition of strong authority? We see how difficult it is with us don't we? Is it possible for 200 or more to see eye to eye?
The thing to remember here is that all have the capacity to have soul contact, but few have obtained it with proficiency.
Those who are not yet sensitive enough (or unwilling) to hear the whisperings of the still small voice cannot see eye to eye on all things. Those who are centered in the lower personality can agree on items of similar interest, but when the interest and philosophy differ an impasse is reached and a lack of oneness is revealed.
If two or more people have soul contact and are willing to use it then they can throw the impasse before the Spirit of God within them and receive a unifying answer.
Whenever my wife and I reach a disagreement in the personality and we feel it needs a solution we seek communion with the soul together and when it comes the disagreement is instantly removed and we are one again. It is a wonderful feeling. Our wrongful thinking is often just taken from us and we cannot even remember what the disagreement was.
When we seek an answer through the soul we both feel our lower natures rebelling at the idea and we have to force ourselves to seek for guidance together.
An answer through the soul can come in at least three ways.
(1) By honestly communicating with each other and sharing love as you do so.
(2) Through meditation
(3) Through Prayer
Now here is the major problem with a group of hundreds (or thousands) of people of diverse states of consciousness. If a number in such a group are incapable or unwilling in the present to achieve oneness through soul contact then the fire of the Spirit that brings one mind will never descend upon them. So what is the answer?
Actually Jesus gave hints in two of his parables:
Parable of Wheat and Tares
"The kingdom of heaven is likened unto a man which sowed good seed in his field: But while men slept, his enemy came and sowed tares among the wheat, and went his way. But when the blade was sprung up, and brought forth fruit, then appeared the tares also.
"So the servants of the householder came and said unto him, Sir, didst not thou sow good seed in thy field? from whence then hath it tares?
"He said unto them, An enemy hath done this. The servants said unto him, Wilt thou then that we go and gather them up?
"But he said, Nay; lest while ye gather up the tares, ye root up also the wheat with them. Let both grow together until the harvest: and in the time of harvest I will say to the reapers, Gather ye together first the tares, and bind them in bundles to burn them: but gather the wheat into my barn." Matt 13:24-30
Parable of the Net
"Again, the kingdom of heaven is like unto a net (maybe Internet?), that was cast into the sea (sea of people), and gathered of every kind: Which, when it was full, they drew to shore, and sat down, and gathered the good into vessels, but cast the bad away.
"So shall it be at the end of the world (age): the angels (Messengers) shall come forth, and sever the wicked from among the just, And shall cast them into the furnace of fire: there shall be wailing and gnashing of teeth." Matt 13:47-50
What is the meaning of these two parables? How do they indicate the path to oneness? What about the so called "wicked?" The literalists believe that they will be burned alive, but could the meaning be something else?
Someone stated that they can be in a room with all kinds of people, some centered in the lower personality and some in the soul, yet maintain soul contact. In other words, those of lower personality did not interfere with her inner self.
Yes, I agree this should be true. Nothing in heaven or hell can interfere with the inner contact of the sincere seeker. Yet again there is something more than this. When two or more people who have soul contact blend together for one purpose they create a channel for a flow of higher energies creating higher life that is not available to the lone individual.
Jesus hinted at this when he said:
"Again I say unto you, That if two of you shall agree on earth as touching any thing that they shall ask, it shall be done for them of my Father which is in heaven. For where two or three are gathered together in my name, there am I in the midst of them." Matt 18:19
When two or more gather and agree through Christ (soul contact) Christ is in the midst in a way that cannot happen in the single condition.
The true beginning of the higher spiritual life (or the Molecular Order) is the union through the soul of two or more, but then a human molecule of 24 entities will create a higher experience still.
In other words, that which we can experience as an individual is far from the ultimate spiritual experience.
When we become one with others who are one with God the magical powers of the soul are manifest.
We are told that God gathers the lights by sifting people as one does when panning for gold.
My Dad did a lot of prospecting and mining and he taught me how to pan for gold.
The first step is to gather some soil from a place where there is a good likelihood of finding the gold. Next you fill up the gold pan and put the pan and dirt in a stream of running water and let the movement of the water sift away the light soil. After you do this for a while you find that just the heavy elements remain. When you are left with just a small amount of elements you let the water move the residual from left to right. Since gold is the heaviest it will remain unmoved whereas the other elements will move away. As you do this and, if you are lucky, you will find some gold. But it is easy to be deceived for "all that glitters is not gold." Some beginners will see some glittering mica and think they have found the prize. Then sometimes we see fools gold and think we have found it. The only true test is to move the elements back and forth until you note that the true gold holds fast to its position whereas the lesser elements go with the flow.
What symbolism do you see between panning for gold and gathering the lights or between panning for gold and the above two parables of Jesus?
Most of us realize that inclusiveness is a good principle. For instance, we try and include all types in this group. If inclusiveness is good does this make a gathering of lights exclusive or undesirable? What do you think?
Jan 29, 2000
Copyright by J J Dewey
Index for Older Archives in the Process of Updating
Easy Access to All the Writings
For Free Book go HERE and other books HERE
JJ's Amazon page HERE
Gather with JJ on Facebook HERE