Jan 23, 2016
Handwriting Analysis of
Prominent 2016 Presidential Candidates
Donald Trump
Donald has the most interesting handwriting of any recent presidential candidate. He is the most intelligent candidate since JFK.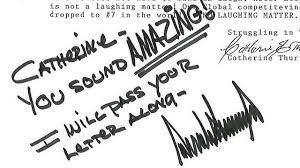 What is quite interesting is that he is not seeking attention toward self so he can get recognition and draw attention, as is the case with most candidates. Indeed he draws attention, but not because of a personal need, but because of his passion, intelligence and charismatic personality. Most any project he tackles with his creative mind will draw attention to himself whether he wants it or not. He is not the egomaniac that is conjured up in the minds of his enemies. He draws attention to himself to further his goals, not for a need for attention.
The thing that stands out in the handwriting is the great difference between his regular handwriting and his signature.
The signature shows how the person presents himself to the world and the regular handwriting reveals more of what the person is like away from the spotlight.
You'll notice that his signature has sharp points in every stroke, almost like spikes whereas the regular writing is much softer. The signature gives the impression that if you mess with him you will suffer puncture wounds. That is what he wants you to think. He is indeed the dealmaker he claims to be. His tactic is to come across as hard as nails, but then when the real negotiations get underway he will soften up, make friends and the guy on the other end of the table will often think he came out on top when it was Donald that really got what he wanted.
He doesn't give in easily though. If you want to change his mind you have to make a solid case. This can be done but one has to make perfect sense. Otherwise, he will go full stream ahead with his own ideas. He hates to change his mind but will if the situation warrants it.
The problem people have in dealing with him is that most will not understand what is going on in his mind. Donald rarely will put all his cards on the table. His inner circle and loved ones will see quite a different side of him than the general public or those doing business with him.
He is extremely versatile and intelligent and has great organizational ability. He is great about visualizing a thing on the physical plane and then turning it into a reality.
Notice the beginning and ending strokes on his name. They look like two buildings. He had to go out of his way to get that effect at the end because the P looks nothing like a P. If there was ever a signature of a builder then this is it.
In this one small sample we see three different modes of writing. The first is the regular writing in the note. The second shows up in the word, AMAZING. And the third mode is in his signature. This shows a versatility and adaptability that few people possess. If the situation calls for it he will change on a dime to make things work out as desired, though his inner goals and mindset will change slowly.
He is not as hardnosed as many think and is influenced by others and willing to listen and consider thoughts of others. He is willing to make what he considers to be reasonable compromises to make things work, but he is not a pushover. He always proceeds with the end in view.
So, how would he deal with world leaders like Putin and the Chinese leaders? Some are afraid he would start World War III.
Indeed he has strong passion, but he has the best self control of any of the candidates. He is very measured and puts a lot of thought into the actual actions he takes.
He says he would have a good relationship with Putin and he probably would. He would first present the image that we are not to be messed with, but then in private meetings he would break the ice and find much more common ground than would other lesser thinkers. He would make deals and both sides would come out feeling positive, but Trump would make sure our country got the best advance possible.
To fix the economy we need someone very bright who can see through the illusion and resist the selfish influences of those who would continue the status quo. Trump has the intelligence to be the man for the job.
Ted Cruz
I found numerous samples of Ted's signature but only one sample of his regular writing. Here it is along with three sample signatures.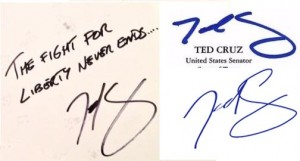 It is interesting how much Cruz has in common with Trump. There are four that stand out.
(1) The signature is a much different style than the regular writing.
(2) They both write in all capital disconnected letters in their regular writing.
(3) They are both driven and passionate men.
(4) They are both very intelligent.
The most similar trait is that they both write in all printed caps wit disconnected letters.
This reveals a rebel instinct in both of them. Neither is afraid to go against the grain. They do things the way they see as the right way to go. In work or play they are competitive and strive hard to win or it is not much fun. Neither wants to reveal the full hand they may be playing.
As I said the signatures of both men have quite a bit different style than their regular writing. This tells us that both men desire to project an image that may not correspond to their true self in order to achieve certain ends. Trump wants to project an image of a person you don't want to mess with, but his bark is worse than his bite.
Cruz tries to project the image that he is more of a team player than he is and that he should be looked upon as someone others can lean on to win the good fight. He has more glamour about this than most.
It is a little surprising to learn that Cruz is partially driven by the desire for recognition and a desire to be the center of attention. He shares this characteristic with Obama, but with less intensity. Even so, he loves the limelight more than does Trump. People assume that Trump wants to be the center of attention because he keeps winding up being at that center, but his efforts are more focused on accomplishing his goals rather than drawing attention to himself. On the other hand, attaining center stage is a strong motivating factor with Cruz. Not the only one to be sure, but it is a strong factor.
Both men are very intelligent, but Cruz is more one directional, focused on a limited range of goals. This could work fine to make him an above average president for he would focus strongly on the job and try and limit distractions.
Trump's intelligence is more versatile, diverse accompanied by great passion. Whereas Cruz would devote 100% of his energy to being president as the job requires, Trump may figure he can do the orthodox job successfully using half of his energy and intelligence and then expand his endeavors into new territory and go where no president has gone before. We would have to wait and see to see where that would be.
Even though Cruz is very independent and likes to do things his own way he is willing to compromise more than the public image of him reveals – as long as his principles are not violated.
Cruz is honest, straightforward and likes to make efficient use of his time. He likes to cut through the red tape and stick to the essentials. He would like to see rules, regulations, taxes etc honed down to what was necessary for the health of the nation.
Cruz is very driven, has a strong sense of purpose. He makes his goals challenging to himself looking into the far future with his planning. He has good self control and desires to improve himself. He places a lot of attention on the material side of things despite being a religious person. He wants this physical earth to be a heaven as well as the hereafter.
Let me add that one thing that handwriting does not reveal is the ideology and belief system that motivates a person. One must examine the words and works of the person to determine that. Some people with a lot of intelligence and talent could make bad decisions based on illusionary beliefs they have picked up. This always needs to be taken into consideration when assessing a leader through his handwriting.
Hillary Clinton's Handwriting Analysis
I analyzed Hillary in 2008. I will include that analysis below but first make an update with some new analysis. I have more samples this time which provides some additional insights. Here is a sample: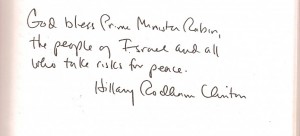 New Insights
Critics may wonder if her perceived flaws would show up in her handwriting. For instance, she obviously lied about the Benghazi attack being caused by a video as evidenced by an email to her daughter at the time that the attacks were from an "Al Queda-like group."
Overall her honesty level is about average. With her friends and inner circle, when not under pressure, she is likely to be fairly open and honest. She has two flaws that may lead her to be deceptive. First, she has a tendency to take the line of least resistance, to make the easier of two choices, even though the more difficult would work out for he best in the long run. The immediate future is important to her.
The second flaw is her willingness to accommodate or please those important to her or having authority over her. A certain amount of this trait can be a good thing, but too much creates problems. She sometimes shows this characteristic to an excess. To illustrate note this signature:
Look at the two L's in Hillary and the stem on the H in Rodham. Note how they bend much more than typical writing. This shows a bending of the will in an effort to please others.
My guess on the video lie was that it was done in an effort to please or help the president. It is quite possible she was ordered to report the story and didn't want to let her boss down.
Many think it is odd that she actively helped suppress the Bill Clinton sex scandals even to the point of attacking the female victims and minimizing them. Critics figured she did it to save her own skin so she could eventually run for president herself. That may have been a factor, but the writing reveals that a most likely bigger factor was pressure put on her by Bill to cooperate and a desire to accommodate him. It was also appealing because it seemed to be the best short term solution.
Many wonder why she would have been so careless with her emails. Why would an intelligent woman put herself in such a perilous situation? Some think it is merely because she doesn't think the rules apply to her. It goes deeper than that.
Having the server in her home was following the line of least resistance for her and a reason for carelessness in sending and receiving classified data is indicated in this sample signature:
Notice how letters are blurred out. This is significant because it is different than her regular fairly clear signature in the past. Nixon's signature went through a similar evolution as he approached Watergate. This change indicates that she is not being as careful about covering her tracks and taking care of details as in the past.
In the past samples her signature I had on hand revealed a normal desire for attention, as the signature is a similar style as the regular writing. But then I came across this signature in her book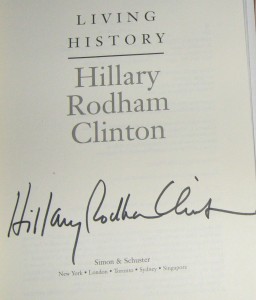 Note the size. It is huge indicating a tremendous desire to be the center of attention. It is interesting that this anomaly appears in a book that tells her story. This variance indicates that in normal relations she tries to appear as one of the people but deep within she has a powerful desire to be the ultimate center of attention as president.
I've been looking over several samples of her general writing I did not have in the past and see that there are quite a few changes depending on her mood. Normally she is quite controlled, but she goes through mood changes from time to time.
Highlights of my 2008 Analysis
Hillary is fairly intelligent. This must be respected whether one agrees with her or not. She has a very sharp mind, very perceptive and almost psychic in tapping into her gut feelings. Overall her basic intelligence is higher than her husband's. This doesn't mean she will be right more than him but that her capacity to use her brain to get what she wants is higher. If she had an affair she would be much less likely to get caught than Bill would be.
She's very good at thinking on her feet and strategizing. Critics often have said that nothing happens by accident with her but everything is planned. There is probably some truth in this as she is much more capable than average of staging events to create an outcome.
Her writing reveals that one area where she does not hold back on compromise is with her husband. Some think she stays with him for political reasons only, but this is not fully the case. She sees him as a fun-loving guy to be with and goes out of her way to accommodate him. He brings out the free spirit within her and she likes that and this causes her to cover up and forgive his sins as much as political ambition.
She has been much more aware of his infidelities that she has let on and has calculatingly formed a defense time and time again.
She has a healthy emotional intelligence and does not suppress. If she gets angry she will release it and if she is hurt she will work through it.
She loves politics because she is a true believer in her ideology. She actually has lower self-confidence and esteem than average and doesn't have as much faith in herself as appears.
She overcomes this self-image problem with dogged determination, self-control and a calculating mind.
As far as revealing her thoughts goes she is all over the map. With some people she will be very open and candid and they will feel special because she is extremely open. With others she will hold back and reveal little. With some groups (probably Republicans) she will be very secretive as well as deceptive.
She has a lot of male energy and if I did not know who had written the sample I see I could not tell if she were male or female.
She is careful about choosing her close friends.
She has many things she wants to accomplish but has difficulty in creating the steps to accomplishment the follow through even though her desire to accomplish is great.
She is sensitive to criticism.
She likes to make up her own mind and doesn't like people making decisions for her. Once she makes a definite decision she holds to it strongly and proceeds with determination.
The bottom line is this. If she has a practical belief system she can accomplish much good, but if she has illusionary beliefs then she can take many people with her along an undesirable path.
You can't tell belief systems from handwriting alone, but it can help in making an educated guess. From her public record we can get a good idea of her belief system and the handwriting can give us indications of where it may lead.
Before I analyzed her handwriting I assumed she was in politics for the glamour as are most politicians. There is much less glamour than I expected and much more calculation. I would guess that she reached certain conclusions when she was young and decided that was what was needed by the world and she was going to do her darndest to act as an agent of change. People who give her too much adoration probably bore her, though she wouldn't publicly acknowledge this.
We know she has a very socialistic leanings and supports the basic democratic ideals. Her handwriting reveals that this is not because of strong emotional empathy as she is very emotionally reserved and holds them in check in many cases. Her belief system is an intellectually calculated one and probably inspired by a number of authors and teachers in her past.
The bright spark is that she is capable of changing her mind and following a practical solution.
If elected she would try and please her supporters while implementing her ideas, but would back off when dead ends are reached.
She would probably get on well with most heads of state and leaders but if someone seems to be opposed to her she is likely to act as they do not exist.
She is an interesting combination of being aggressive yet lacking confidence so it is difficult to predict what she would do in a crisis. She may overreact to prove herself on one occasion and be overly cautious in another.
Bernie Sanders
Here is a sample of his writing plus a full signature.
Bernie's strong emotional sensitivity catches my eye first. The previous three candidates seek to control their emotions with their minds. They are all three intense and passionate, but also calculating about the steps they take. Not so much with Bernie. His direction is governed more by his emotions than any calculating mind.
He is sensitive and caring and has empathy for the pain and distress of others. When we add to this the fact that his mind dwells a lot in the abstract ideological side of life with his mind consistently expanding on ideas he likes – accompanied by a desire to share and give – it is no surprise that he is a socialist.
He is evidently drawn to this belief because he sees it as a vehicle to relieve humanity from the pain, distress and suffering they have. Because he has good emotional intelligence and appeals to emotional people with his speech he has an ability to attract many not so interested in the three other major candidates who are more mental.
His intentions are good and he wants to help people, but decisions on how to go about it are governed by his feelings and strong idealistic view of how the world should be. Unfortunately, he has not thought through how he will accomplish is vision.
And vision is a key word here as he is driven more by his ideals and vision than he is in accomplishing any personal gain. A huge part of him would rather not run for president because of personal insecurities, but he pushed himself forward because in his mind it was the right thing to do for the greater good.
With Bernie what you see is what you get. He has no interest in projecting any image in public that is any different than in private, though he is secretive and most are not aware of all his thinking. His emotional connection is part of the reason he has been as successful as he has.
There are several drawbacks to him accomplishing his goals as president.
(1) He does not think things through to their logical conclusion, but just feels that if he does the right thing (in his eyes) that things will work out.
(2) He doesn't always finish what he starts – if too many problems get in the way he will stop and do something different leaving the job undone.
(3) He is more insecure than he lets on.
(4) He can be fooled by adversaries more than the other three candidates.
(5) He bottles up emotion and this can be dangerous. He is normally warm and friendly but if too much internal pressure mounts he is likely to make a quick retaliatory decision or outburst on impulse that he would regret.
(6) He is very secretive. There are a lot of things in his past he does not want to discuss and if he were president he would not share with us all of his plans.
(7) He is not much in to making deals or compromising.
His intelligence is a little above average, but his emotional appeal is quite a bit above average. He is quick on his feet though and never lacks for something to say.
We've covered the major candidates. Now I'll go over a few points on three others who have an outside chance.
Michael Bloomberg
Here are a couple samples of his writing.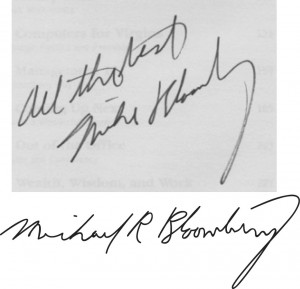 The first question one might ask is how is it that the guy made about $40 billion?
Take a look at his Y for a huge clue. Notice how far down into the lower zone it extends. The depth of the lower zone shows the amount of attention one places on the material side of life and his focus there is pretty intense. Another clue is found in two huge hooks. The most prominent is found in the Y on the bottom signature and a second is the beginning stroke on the M in the top signature. These huge hooks show a powerful desire to acquire that which he desires (and he has strong material desires) and even more powerful impulse to keep the gains which he has achieved. This focus plus considerable influence though charm and emotional appeal – plus an aggressive drive for what he wants gives us some insight into his success. I would guess that he has also had considerable good luck, as many others with similar traits are not billionaires.
The strange thing about one with such a material focus is that his mind also stretches into the philosophical, spiritual abstract areas of life. In this way and emotionally he has a lot in common with Bernie Sanders. The two would find each other interesting when the conversation is centered on political philosophy, but Bloomberg would lose Bernie when he started talking finance or capitalism.
Bloomberg is more honest with his words than most politicians, but is careful about revealing his feelings. He doesn't like conflict and tries to get along with fellow workers by being more cheerful than he feels at times.
He loves variety and change. That is one reason he wants to be president – it would be an interesting change for him, though he would complain about the isolation of the office if elected.
Marco Rubio

The thing that first catches my attention in Marco's writing is his unusual treatment of the latter part of his name – Marco. In the first sample the first two letters are legible and the latter two are just a large smudge. In the second sample all but the M is represented by a small smudge. In the third he just writes Ma and leaves the last two letters out completely. Finally, we note that the capital letters are much larger than the lower case. Putting this all together it appears that there is a part of his life he would like to blot out from existence, but another part that he wants to draw attention to. It would seem that there is a part of himself he just wants to leave behind and concentrate on who and where he is now. There appears to be some emotional pain in his past he wants to forget.
He likes the limelight he has achieved and getting recognition for his strengths is one of the things that motivates him. A strong sense of responsibility is another motivator. He sees what he thinks is the right direction and feels responsible to do something about it.
He oscillates from time to time between being very conservative to fairly liberal. Sometimes he takes a stand and no ne can change his mind and other times he relaxes and goes with he flow.
He is charming, likeable and likes to concentrate on essentials. He tries to take a mental approach, rather than emotional to situations that require a decision.
Ben Carson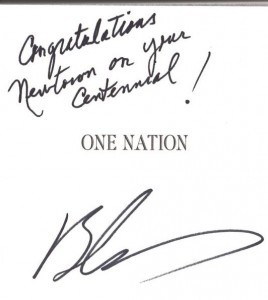 You wouldn't think that Carson has a stronger desire to be center stage than does Trump. He shares this with the other Republican candidates analyzed here.
What has garnered his success though is that is a plodder, a team player and has good determination and organizational skills. His journey through life has been a step-by-step process, ever moving onward to greener pastures and more recognition.
He is a dreamer and is anchored enough to the real world to make some of his dreams come true. He focuses a lot of attention of the spiritual, philosophical side of life.
He doesn't like a lot of friction and is hesitant to sharply criticize. He has a secretive side and doesn't want to reveal all his thoughts.
He has the intelligence and stability to make a competent president.
I could write much more about all the above candidates, but this should suffice to give a few useful highlights.
Copyright 2016 by J J Dewey
Easy Access to all the Writings
For Free Book go HERE and other books HERE
Check out JJ's Political Blog HERE
JJ's Amazon page HERE
Join JJ's Study class HERE