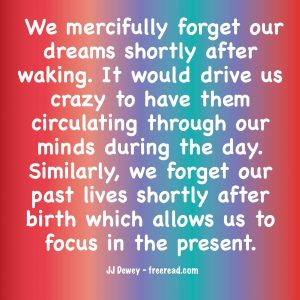 Texas Gathering, Part Eleven
Past Life Regression, Part 1
Assaf begins the session by singing the Beatles' song, "I Will".
JJ: There's no such thing as a bad Beatle's song, is there? I always liked that one. I was looking at my watch. I think it's probably a good time to do the regression part of our Gathering. Is ever body ready to go back into the past? How about the future? Would you like to discover a future life? Your soul actually has your future lives projected.
Speaking of that, I've been contemplating somewhat about time. We hear a lot of teaching about how there is an eternal now and everything is happening at once. I don't think it's quite happening that way. Things do happen in sequential periods of time but the eternal now is not where everything is happening at once, so to speak; instead there is a place that is beyond time. When you die and go into the higher worlds, time is not measured the way it is here. But when you're reborn, time has actually passed so it's not like everything is happening at once. When we go to the higher worlds we go to places where time isn't measured the way it is here. Yet time is still passing here even when we're in the higher worlds. When we come back down to the lower worlds time has passed. It's a popular teaching to teach that everything is happening at once. I don't believe that's exactly the way it's transpiring. It's just the fact that time is not measured in the higher worlds. It's like you're in a state of consciousness where there is no time. So you go out of time then back into time rather than into a place where everything is happening at one time. Yet there is also a way to step back and look at the canvas of eternity where we can see the past and the future unfolding yet these are like projections instead of the actual unfoldment. We come down here on the earth and here upon the earth we go through the actual unfoldment of time.
So we're going to take some of you back into time. Usually when I've done these regressions the majority of the people can go back. Some people go back much more easily than others. Some go back and replay it just like they were really there. Others go back and get some memory and others just get impressions. You have all kinds of different experiences. Those who go back and relive the past completely with 100% recall are always very interesting cases, especially if they had an interesting past life.
It's funny when I was teaching about past life and doing past life regressions was how I first met my wife. She came to a past life regression I did then came later to the handwriting courses I was teaching. At that time, shortly after I became fairly well known for doing past life regressions in the area a local TV station said they were doing a series on new age things. It turned out that they were actually attempting to make us all look very bad. So, they did a series on us and I took a person back in a past life regression for the TV crew. She went back to the days of Jesus which was very interesting. I've only taken two people back to the days of Jesus that sounded credible. A lot of people think they lived in the days of Jesus but when you look at it statistically only a few of us probably did but yet somebody had to. I've had a couple people go back and give some interesting accounts. Maybe one of you were back there. Who knows?
It's also possible if you contact the soul 100% that you can draw back memories that aren't even your own or actual true memories. That sometimes happens. Sometimes people will pick up memories, especially in the astral zone. If we pick something up from there you never know what you'll come up with. It could be something true but it might not even be related to you 100%. But if you go back to one of your true past lives you will identify with it 100% and you will know if you hit a past life of yourself. Is everybody ready?
Everybody relax. Close your eyes. We're going to use a guided meditation. I like using this better than hypnosis because we want you to be in full control of yourself and always be able to exercise your full free will.
Visualize yourself walking through a forest. You're walking on a path through a wooded area. It's a nice pleasant area. Birds are singing. You see little animals along the path and running through the forest. They're friendly little animals. You feel very pleasant. It's a pleasant experience. It's just the right temperature, very slight wind. You're walking along this path. It's a very pleasant walk. You feel like you don't have a care in the world. There's nothing to worry about. There's just you and nature and a nice day. The sun is overhead. Sunlight filters through the trees. It's very pleasant. You're walking along. You continue walking along this path and you come to a place where the forest ends. There is a mist and you feel like you want to walk into this mist. Your past is within this mist. Your past is there and you want to discover it. You proceed. You walk into this mist and the forest and the little animals and all the things behind you disappear. There is nothing here now except mist. You walk ahead. You're not afraid. You're comfortable and you proceed.
You see a blue circle of light, a small circle about the size of a silver dollar to you right. It's like a marker of some kind. You walk past this then another one appears in front of you. As you keep walking you see another blue marker ahead of you. You take a couple more steps and you see another. Somehow you know that when you pass ten more markers you will be back in your past. Each one is taking you back, back into a past experience. We're going to count the next ten markers. Proceed ahead. You're walking past the first one. As you walk past the first one the mist gets a little lighter. Somehow you know that when you get to the tenth the mist will be completely gone and you will be back into your past.
You're walking past the second one. The mist clears just a little bit more. You're walking past the third one and it begins to lift a little bit more. You're walking past the fourth. The mist clears a bit more. You're walking past the fifth. It's beginning to get a little bit lighter. You see a little bit in the background. You're walking past the sixth one. It's lighter still. You're getting impressions about who you were. You're going back with you feelings, your thoughts, you beliefs. You will feel what you felt then. You will hear what you heard then. You're walking past the seventh. You hear a name. Focus on this name. The meaning or the image behind this name is coming to you. You're walking past the eighth. This name is becoming clearer.
Say the name to yourself. Don't say it audibly but say it to yourself over and over. As you say it you're going back to when this name had meaning to you. Say the name over and over to yourself. You're past the eighth and now you're passing the ninth. Say the name over and over. As you say the name to yourself over and over the mist is lifting. It's lifting more. Things are becoming clearer. You're seeing what you saw then. You pass the ninth. Now you have one more marker to pass and the mist will be clear. It will be cleared away. You're passing the tenth.
Now you're back. You're back into a life that you lived sometime ago. You can see what you saw then. You know what the name means. Think about this life. The first thing in this life you're thinking about is what this name means. Now another name is coming to your mind. Say this name over and over to yourself. As you say this name over and over to yourself, you'll begin to know all about this person; who this person is, whether it's you or a friend and what this person meant to you. Now a word comes to your mind, a word related to this lifetime. Say this word over and over in your mind and the meaning of this word will pull you into a memory. Everything is becoming clearer. It's becoming clear to you who you are.
I'm going to count to three and on the count of three you'll be back in this previous lifetime. You'll know who you are and the meaning of this lifetime will be clear to you. One, two, three. You know who you are. You know the lesson that you came to this lifetime to learn and you know what you learned and experienced. You know you are seeing people who were important to you. You see someone you loved. Someone else perhaps that you didn't love. You understood what you did for a living. You understood what you believed in. Think about what you believed in; what you were taught. Did you do what you were taught? Think about that. It's becoming clearer to you. Who are your parents? What did they teach you? What relationship did you have with them? Think about all these things that you learned in this lifetime.
Now I'm going to count to three and you'll go back to a lifetime before this. I'm going to count to three and you're going farther back. One, two, three. You know who you are. You're thinking about a particular time. What is happening to you at this time? It's an important time in your life. You're thinking about what is happening and what you're learning from this. It's coming to you. You're name is coming to you. I'm going to count to three and the name is coming to your mind. One, two, three. The name is coming to your mind. You know who you are. You're going back to some of the early memories in this lifetime. You're going to watch your life unfold, almost like you're watching a movie. You see the beginning then you see near the end. You see everything in between. Pick a time that was important in this lifetime and look at it and experience it. Think of the impressions that are coming to you. Think of how you feel. Think of who you knew, who you loved and who you did not love. Who treated you well? Who did not treat you well?
Now spend a minute or two contemplating this lifetime. You can look at any part of this lifetime that you want, from the beginning to the end. Look over and relive any part of the life that you want. Think about it for a minute and let the feelings and thoughts come to you.
Very good. Now we're going to move back into the present. When we move into the present you're going to take all the memories with you so that you'll be able to recall everything that you've seen and felt. I'm going to count to three and we're going to all move into the present. One, moving into the present; two, you're almost there; three, you're in the present.
Who had some interesting experiences? Marylin?
Marylin: I don't know where I went but I was beneath water and I was swimming. I don't know when it was. Then you sent us back a second time and at the point where you said the scene was getting clearer I saw buildings all over the place. I saw figures in there but I was always high up over it. Then the third time I wasn't on Earth. I don't know where I was but I was a long way away.
JJ: Another planet or something?
Marylin: I don't know; another dimension? I don't know. It was somewhere else. I wasn't alone. That's something!
JJ: Have you done that before?
Marylin: No, not this way I hadn't. I rehearsed in my head a long time ago. I was walking down the forest path. A head of me was an Indian warrior on a beautiful horse and I was going toward him. I wanted to but I didn't want to. At that particular time I was in a roomful of smokers and they wanted me to open my eyes but my eyes burned then I didn't go any deeper so I didn't find out any more. When you said the path in the forest it took me right back.
JJ: Anyone else?
Audience: I had a lot of water too. When I first went back it was like a crossing; crossing water. Then it was like leaving Earth and watching water come up from very high and watching the water come up. Then I was on another planet or somewhere. The rock formations were like this and they were really kind of pointy. I could see the color of them. It was a brownish, purplish, tanish, and I saw lots and lots of them but they were like this. That's it.
JJ: Anybody else?
Audience: I had several experiences but the one that's still lingering with me is, Duway(?) was my name. It's not spelled the way that we would spell it. I think I'm a bounty hunter and I went after an alien race with light skin, kind of bumpy. When the mouth would open to scream they had really jagged teeth. I went . . . that's the only thing I could think of, that I was a bounty hunter of some kind. I don't know what I looked like but my name was Duway.
JJ: Interesting. That must have been on a galaxy far away huh?
Audience: I know I've been on other planets and I've been a dolphin before. This one is still sticking with me because I don't like to think I'm a bounty hunter.
JJ: Who's next?
Audience: I'm not sure what lesson I was supposed to learn but in the second one I was around water. I was on a ship. I was married. I don't remember if I had kids or not but it seemed like I was immigrating. This sounds boring compared to the other ones. I remember fishing boats and the sound of seagulls and the smell of the ocean.
Audience: I didn't get very much but the impression I got was that I was also on a boat in a large body of water. The first word that came to me, going back, was that I was a lady. I didn't get a name but I felt like I was a lady in these big fancy dresses dancing on a boat. That's it.
JJ: Robin has something.
Robin: I've only tried this once before and it didn't work so I'm not sure. These are just impressions that I got. When we went back the first time my name was Josephine and I was a Quaker woman. My husband was Allen. I had at least a son. A daughter kept fading in and out so I'm not sure. The word that came was 'harsh'. I tried to figure out what that meant. I don't know if it referred to the harshness of life or the teachings of that religion. I don't really know anything about Quakers but maybe if their idea of God is a harsh God. I don't know but that was the word that came. Then when I went back again my name was Antoine. I was immediately aware that I was Antoine and there was a bright light over here. I realized that I was on the beach and that was the sun rising. I was somehow connected with the ocean. I think I was working on a ship or something and the cook was my friend. That was it.
Audience: I wonder why so many so the ocean and ships.
JJ: That's kind of unusual that a lot of people are seeing that.
Audience: I saw that too but I can't agree with it in my mind.
JJ: To verify we'd have to do them individually and test them out. Some people go back into real past lives and others go back into an illusionary past life and others will go back and identify with someone they actually knew in a past life. They may think they're Napoleon but really they were in Napoleon's army. Maybe they admired Napoleon and wished they were him.
Audience: In mine I kept getting William Wallace or Sir William Wallace and Bobert DeBruce. I kept seeing buildings that look like buildings in England. They're there now but they were old buildings. I was seeing knights fighting and kept wondering why I kept getting William Wallace and Robert DeBruce. I kept trying to see if I was these people or if I knew these people. It felt like legend or feeling of inspiration. I might've been in the army. There was a feeling of inspiration about those two people.
JJ: It's quite possible you weren't them but were close to them. That will often happen.
Audience: I got 'chivalry'. The word chivalry was real important to me.
Audience: I got a flash of the crusades too but it was just a flash then it went on to the fishing thing.
Audience: Now that you've explained that I'm willing to share. It's just really hard for me to fathom. The name that came when you said it the first time was "Caesar". I got a lot of images of what he looked like but I don't know if I was him or not. I couldn't tell. He was in Rome and there was a lot of stuff going on.
JJ: So there's a good chance you maybe were close to Caesar and that happened. That's why so many people think they were somebody famous in a past life. Maybe they admired the famous person when they were there in a past life. Of course, somebody had to be those famous people but everybody can't be.
Audience: The first time I went back my name was also Josephine but I was in an area with a man whose name was Benjamin. The word that came to me was love. We were standing outside a cottage of some sort then that left. Then when we went back farther I found myself in nun's robes and I was in a chapel and I was praying.
JJ: Did it seem like you were really there?
Audience: Oh yes, I was there. I was talking with God. I had a very emotional experience with it because the question-I don't know how these two work together but-the thought was I had such a close communion with God in that lifetime and that it was in a safe environment. In this lifetime I'm finding it very hard to live that knowing that I have in my heart in the outer world with people. It was so much easier to do it in a community of people that felt the same way I did. This time it's different.
JJ: Is that when you were a nun?
Audience: Yes
JJ: Can you see why we have to forget?
Audience: This is the first time I've ever been able to go back. I've never been receptive to regression before. People can't get me past the barrier. I don't know why I couldn't do it before. Maybe I didn't think it was any of their business. I trust this time. Thank you.
JJ: Anybody else want to share anything? Cindy?
Cindy: I just wanted to say it's kind of eerie because in my second time that I went into I realized that I was a male. I was fishing and could very clearly see the river. My name was Benjamin.
JJ: How clearly did you go back?
Cindy: That was very clear. It was a very peaceful lifetime which was unusual.
JJ: Anyone else? Don't be shy.
Audience: I've done a lot of past life regressions. I've also gathered a lot of people into them. I've had more spontaneous past life regressions. This is pretty strange being guided by someone. When I came out from the mist it was purple. It was really strange. It was a very, very, very deep purple. In the first life I was a young man. In fact, in both those lifetimes I was a male. I was a young man, 20ish, in a village. It was in a market place. There were a lot of stone walls and stalls and that sort of thing. The name I got before I went into that lifetime was Jaalo. That's what came. I never heard that name before. I don't even know if that's a name. That's the name I got.
JJ: That's a good sign you got something totally unheard of.
Audience: The word I got was 'mishappen'. I said it to myself two or three times because I thought maybe I didn't understand myself. I got it that I needed to stand on my principles. That's what I had to learn in that lifetime.
JJ: Had you been back to this lifetime before?
Audience: No.
JJ: Have you been regressed before?
Audience: Lots of times. Most of them were spontaneous though.
JJ: You mean just out of the blue you'd go back like a flashback or something?
Audience: I'll experience something or be somewhere and all of a sudden there it is.
JJ: You mean without any guiding at all? You just go back?
Audience: Right.
JJ: That's a sign of an advanced soul.
Audience: It was pretty wild, the first few I had. Then the second life I went to my name was Joseph. It was 1502. You asked for a time or a date or something and that's what came. I'm not sure if it was before Christ or after but 1502 was what I got. I was a male. I had two young daughters and I could just see them coming towards me. I was a boot maker. The daughters were real important. They were coming towards me. Then the very next thing when I tried to get a hold of why I was looking at this I found myself out on a hill communicating with God. It was like a lot of clouds and light rays. You know how the light rays come through the clouds. Then you were asking us to come back.
JJ: Interesting. Anybody else?
Audience: I only remembered one but I typically don't remember very often. The scenes that came to mind were that my name was Samuel and it was in pre-revolutionary war times but very close. I had two scenes. One was outside of Boston in fields watching British regulars going by then another scene where I was walking in a cobblestone village. I didn't get much more than that but there is a sense of something to do with Sam Adams. I don't think I was Sam Adams but my name was Samuel. There was a sense of connection. What just occurred to me now, not then, but maybe this came to me now because I'm in a wounded state and there's a sense that I may have been wounded at that time.
Audience: The first time you asked for a name I came up with Joshua. I was a boy. You asked for the mother's name and it was Elizabeth. I immediately flipped into adulthood as a priest in a desert scene surrounded with children. Other than that that was all I could basically see and when you went to the second time I got absolutely nothing except the words 'Hosanna' and 'Glory Be to God'. Everything was blank. There was nothing except those words.
Audience: There wasn't any significant thing. Just that I still hear the ocean in my ears. There was some point of boat use with the sound of the ocean from a distance. When you mentioned a name one name came to mind, Pamela. It was darkness and I don't remember anything but still I have this feeling in my ears and sound of the ocean.
JJ: A lot of people got water. That's interesting. We didn't mention water in the regression.
Audience: I didn't regress and I didn't see any past lives and I didn't hear any names. But when you asked I kept going back trying to restart it so maybe I could run back and try to do it. When you said to think of a word, the word was 'surrender'. But I didn't get any pictures.
JJ: You might want to do with that is to repeat that word over and over and see where that takes you. That's probably a key to something important in your past. It could be positive or it could be negative. Maybe you had to surrender against your will or maybe you surrendered to something according to your will to something in the past. If you pick up a word like that when you're meditating, that word can sometimes trigger a past life memory. Anybody else have anything to share before we move on?
Audience: I had more of a sense of well-I went back and Rebecca was my name. I didn't get a real clear thing but I had a feeling that I starved to death. There were two kids with me. I felt more than I saw. Is that normal?
JJ: Well, you go back several ways. Some people just go back by feeling and they feel what they felt back then but they don't see anything or hear anything. Others will hear things but not really feel anything and others will see things but not really hear or feel things. Some will hear, see, feel, all the senses will go back.
We're going to pick on one or two of you. Jeanine seems to be pretty sensitive. Why don't you come over here and sit in this chair. Do you mind? We'll take one individual back because with a group we get more generality so we'll try to get a little more specific with an individual.
Delivered May 25, 2002 at the Gathering in Wimberly Texas.
Copyright By J J Dewey
Easy Access to All the Writings
For Free Book go HERE and other books HERE
JJ's Amazon page HERE
Gather with JJ on Facebook HERE