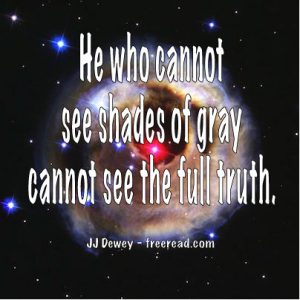 Discovering the New Age, Part 5
Sorting out Mind from Emotion
Shades of Gray
There are two types of people on this planet. Those who see things in black and white and those who see shades of gray.
The first tends to categorize things as either all right or all wrong and the second is inclined to take all circumstances and data into account.
The first is the lazy man's approach which requires little thought or contemplation. This is the Piscean Age of emotion approach as feelings tend to go one direction or the other with little thought of the in between. The second is the Aquarian mental approach which requires the use of the mind.
The black and white attitude is on display continually in politics and this tells us that we still have a ways to go before we get both feet in the Aquarian Age where mind is dominate.
The party or candidate is either all right or all wrong. If one disagrees with his mindset, he or she will be rejected out of hand and the accuser will defend his view as if all is in order.
The black and white attitude also shows itself when a candidate may agree with him in all matters except one that presses his buttons. In this case many black and white people will reject everything about the candidate. For many, the candidate must be philosophically pure to be accepted.
Many accept political issues based on black and white feeling rather than thinking through the total effects of their implementation. For instance, the previous subject of waste and inefficiency are often completely overlooked.
Here are some other examples of black and white thinking.
(1) Abortion is either all right or all wrong.
(2) Socialism, or any other "ism" is either all good or all bad.
(3) When there is a problem many will automatically support laws, rules and regulations as a solution rather than working with education that trusts in the people's common sense.
(4) Politically correct speech is quite black and white as expression is limited to one correct way instead of multiple colorful and creative ways.
(5) Global warming. Many on both sides know nothing about the science but believe some sound bytes without questioning. Their side is all right and the other is all wrong.
(6) Spending. Many have a black and white support of spending on anything that sounds good without consideration of the debt or waste involved.
(7) Education. Many condemn or praise education as if all is bad or all is good.
(8) Risk. Many are willing to subject us to any amount of risk to get what they want but will accept no risk at all from policies of the opposing view.
And this brings us to our next topic – dealing with risk.
To every thing there is a season, and a time to every purpose under the heaven:
A time to be born, and a time to die; a time to plant, and a time to pluck up that which is planted; A time to kill, and a time to heal; a time to break down, and a time to build up; A time to weep, and a time to laugh; a time to mourn, and a time to dance; A time to cast away stones, and a time to gather stones together; a time to embrace, and a time to refrain from embracing;
A time to get, and a time to lose; a time to keep, and a time to cast away; A time to rend, and a time to sew; a time to keep silence, and a time to speak; A time to love, and a time to hate; a time of war, and a time of peace.
Eccl 3:1-8
For Part 6 GO HERE
Copyright 2016 by J J Dewey
Index for Recent Posts – Includes this series
Easy Access to All the Writings
For Free Book go HERE and other books HERE
JJ's Amazon page HERE
Gather with JJ on Facebook HERE