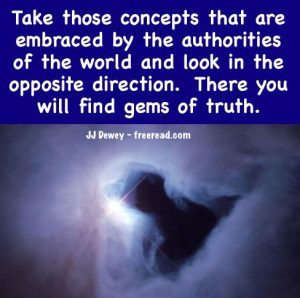 The Gods of the Bible, Part 4
MEN ARE ALSO CALLED CHRISTS
Many may not be surprised to learn that we may become sons of God as is Jesus, but few are prepared for this next claim that we will examine.
And what is that?
Others besides Jesus were called by the name of Christ, and such was written in the Bible itself.
The word "Christ" comes from the Greek word CHRISTOS which means "anointed". Its equivalent in the Hebrew is "Messiah." CHRISTOS is derived from the Greek CHRIO which means "to anoint with oil or consecrate to an office or position."
The Hebrew "Messiah" comes from MASHIYACH and means the same as CHRISTOS. It is derived from MASHACH which is the equivalent of CHRIO.
Any good concordance will reveal that Christ and Messiah are the same word, but from two different languages. Furthermore, it can be proved from the King James version of the Bible: "He first findeth his own brother Simon, and saith unto him, we have found the Messias (Greek spelling of Messiah) which is BEING INTERPRETED, THE CHRIST." John 1:41 (Also see John 4:25)
This means that wherever in the Old Testament the original Hebrew for Messiah, MASHIYACH, is found, it could be translated correctly into the Greek CHRISTOS or the English "Christ".
Interestingly, MASHIYACH is not usually translated as "Messiah", but "anointed". If the New Testament CHRISTOS were translated the same way we would read "Jesus the anointed" rather than "Jesus the Christ" The word Christ is a name, but like all names in ancient times it had a meaning to convey. Those possessing this special name were anointed to a special office, position or mission.
There are only two places in the Old Testament that MASHIYACH is translated as Messiah. That is in Daniel 9:25 & 26. The reason it was translated as such here is that it seems to be a sure prophecy of Jesus. On the other hand, when MASHIYACH did not seem to refer to Jesus translators show their bias by rendering it "anointed".
Let us be consistent translators and render MASHIYACH to its English equivalent "Christ" and see how some of these passages read: "And the Priest that is CHRIST shall take of the bullocks blood and bring it to the tabernacle of the congregation." Lev. 4:5 This refers to the priest that offered sacrifices according to the law of Moses.
In speaking of Saul David said: "I will not put forth mine hand against my Lord; for he is the Lord's CHRIST." I Sam. 24:10
In speaking of himself David said: "But thou (God) hast cast off and abhorred, thou hast been wroth with thine CHRIST." Psalms 89:38
In another scripture MASHIYACH refers to all Israel: "He suffered no man to do them (Israel) wrong: yea, he reproved kings for their sakes; Saying, Touch not mine CHRIST (Israel), and do my prophets no harm." Psalms 105:14-15
MASHIYACH is even used in connection with a non-Jew: "Thus saith the Lord to his CHRIST, to Cyrus, whose right hand I have holden to subdue nations before him…" Isa. 45:1
In the New Testament the Greek CHRIO is a near synonym for "Christ". Jesus used the word concerning himself when he said: "The Spirit of the Lord is upon me, because he hath anointed (Christed) me to preach the gospel to the poor…" Luke 4:18
The word is also used in connection with the followers of Jesus: "Now he which stablishesth us with you in Christ (the anointed), and hath anointed (Christed) us, is God." II Cor 1:21
When we take the Greek and Hebrew of these and other scriptures into consideration we find that the following scripture which was previously quoted is not really so unique: "For as the body is one, and hath many members, and all the members of that one body, being MANY, are one body: SO ALSO IS CHRIST." I Cor 12:12
Those specifically named in the scriptures who are a part of the body of Christ, and thus bear the name of Christ are Saul, David, Cyrus, the ancient Israelites, the early Christians, and Jesus. Among the early Christians that bore the name of Christ according to the Bible were: "First apostles, secondly prophets, thirdly teachers…" I Cor 12:28
It is beyond dispute that Jesus the Christ was referred to as the "Bridegroom" in the scriptures. See John 3:29 for example. The inhabitants of the New Jerusalem are "they which are written in the Lamb's book of life." Rev 21:27 These people make up the body of Christ of whom Jesus "is the head of the body, the church." Col 1:18 This body of Christ, or the New Jerusalem is called "the bride, the Lamb's wife." Rev. 21:8 If Jesus is the husband of those who receive the Spirit of God then a follower would automatically take upon himself the same name that Jesus had. Just as with David, Cyrus, and the early Christians we too can bear the name of Christ, or become worthy to be anointed as Sons of God by our Father God.
It is only natural that men and women who are the children of God should also be called by the name of Christ just as it is natural that Jesus, a Son of God, is called the Christ. We have proven that the Father bears this sacred name and the Son inherits the name and characteristics of the father. But just as Jesus inherited the family name of Christ from the Father "of whom the whole family in heaven and earth is named" (Eph 3:15) even so do we inherit the name of Christ from Jesus who is called our "everlasting Father" (Isa 9:6).
No wonder the scriptures tell us that Jesus became the Christ "by inheritance" (Heb 1:4). We are to follow that same process. Paul said: "In whom (Christ) also we have obtained an inheritance…" Eph 1:11 Remember he said we are "heirs of God, and joint heirs of Christ." Rom 8:17
Jesus prayed that many disciples would become as Christ: "Neither pray I for these alone (the twelve apostles) but for them also which shall believe on me through their word; that they ALL MAY BE ONE; as thou. Father, art in me, and I in thee, that they also may be ONE IN US: that the world may believe that thou hast sent me. And the glory which thou gavest me I HAVE GIVEN THEM that they may be one, EVEN AS WE ARE ONE." John 17:20-22
This scripture makes it very clear that the followers of Jesus are to receive the same "glory" and oneness as he did. In other words, they are to be "anointed" or made a Christ as Jesus was.
Jesus clarified this: "To him that overcometh will I grant to sit with me in my throne, even as I also overcame, and am sat down with my Father in his throne." Rev. 3:21
"To the one who is victorious I will give authority over the nations just as I myself have received authority from my Father." Rev 2:26-27 Phillips
"If a man love me, he will keep my words, and my Father will love him, and we ( the Christ Father and Son) will come in unto him and make our abode with him." John 14:23
"For if the firstfruit (Jesus) be holy, the lump (the followers of Christ) is also holy: and if the root be holy, so are the branches." Rom 11:16
Paul divides the resurrection of man into two groups: "For as in Adam all die, even so in Christ shall all be made alive. But every man in his own order: (Group One:) Christ the firstfruitS; (Group Two:) afterward they that are Christ's at his coming." I Cor 15:22-23
Notice that all people who are resurrected before the second coming of Jesus are called "Christ the FIRSTFRUITS". "Firstfruits" means more than one fruit and would include not only Jesus but others who came alive with him such as those mentioned in Matthew: "And the graves were opened: and many bodies of the saints which slept arose, and came out of the graves after his resurrection, and went into the holy city, and appeared unto many." Matt 27:52-53
These people and others are called "Christ the firstfruits".
Later Paul makes another very interesting statement: "For he (Jesus or Christ) hath put all things under his feet. But when he saith, all things are put under him, it is manifest that he (God the Father) is excepted, which DID PUT ALL THINGS UNDER HIM." I Cor 15:27
Paul tells us clearly here that there was a time when the Father did the same thing that Jesus did. That is: "He did put all things under him." That could only mean that there was a time when the Father did not have all things under him, or did not have all power and was subject to limitations as men are. Obviously, the Father of Jesus was once a man as we are now.
Remember: "The Son can do nothing of himself, but what he seeth the Father do, for what things soever HE DOETH, these also doeth the Son likewise." John 5:19-21
Jesus did the same works that his Father had done previously. Jesus was raised from the dead. Obviously the Father had a similar experience on another world in ages past.
Paul calls this Christ principle a "mystery" which has been hidden for ages: "Even the mystery which hath been hid from ages from generations, but now is made manifest to his saints: To whom God would make known what is the riches of the glory of this mystery among the Gentiles; which is CHRIST IN YOU, the hope of glory." Col 1:26-27
It is fitting then that Paul speaks of "Christ," who is our life…your life is hid with Christ in God." Col 3:4 &3 "God has now made (us) to share the very life of Christ." Col 2:13 Phillips
"And I looked and lo, a Lamb stood on mount Sion, and with him an hundred and forty and four thousand, having his Father's name (Christ) written in their foreheads." Rev 14:1
The faithful will bear the name of Christ because "Christ" means "anointed". Jesus was anointed to be our Lord or Master, and also High Priest. The rest of the faithful are anointed to be "kings and priests unto God and his Father." Rev 1:6 "And thou hast made us unto our God Kings and Priests and we shall reign on the earth. Rev 5:10
Speaking of ordinary mortals we are told that "saviours shall come upon mount Zion to judge the mount of Esau (carnal mankind) and the kingdom shall be the Lord's." Obadiah Verse 21
The full name of Jesus Christ literally means "anointed to deliver." The most glorious and eternal work any of us can do is to reach forth our hands to lift up those who are struggling for greater light and truth. Aiding in the deliverance of our brethren and sisters is to become as Jesus and to take upon ourselves his name and become as Christ.
MEN ARE ALSO CALLED SAVIORS
Just as others besides Jesus belong to the body of Christ and have been anointed or christened (Christed), so are numerous men called saviors in the Bible.
Let us note the language of the angel right in the King James Version: "For unto you is born this day in the city of David A Saviour, which is Christ (anointed) the Lord." Luke 2:11
The reason he was called "a Saviour" is because he was not the first to be called such. Numerous men among Israel have been called saviors in the past.
The word "savior" comes from the Hebrew YASHA and in the King James version this word is translated fairly inconsistently. It is also rendered as "avenging", "defend", "deliverer", "help", "preserve", "rescue", "get victory", and "to be safe". The core meaning is either "savior" or "deliverer".
YASHA is part of the root from which the name "Jesus" was derived and often applies to God: "Yet I am the Lord thy God from the land of Egypt, and thou shalt know no god but me: for there is no saviour (YASHA) beside me." Hosea 13:4
"There is no God else beside me; a just God and a Saviour; there is none beside me." Isa 45:21
It sounds here as if the God of the Old Testament is the only God there is and the only Saviour. We shall see that the Bible teaches that he is not the only God; neither the only saviour, but was merely saying that Israel was to look toward him for only source of leadership and deliverance.
Paul expressed it well when he said: "For though there be that are called gods, whether in heaven or in earth, (as there be gods many, and lords many,) But TO US THERE IS BUT ONE GOD, the Father, of whom are all things, and we in him; and one Lord Jesus Christ, by whom are all things, and we by him." I Cor 8:5-6
If we substituted "Savior" for God here and it would still be accurate. It could be worded: "There are many Saviors, but to us there is only one. How else do we explain the fact that God says he is the only savior whereas the Bible goes on to mention numerous ones?
Here is one of the many examples: "And when the children of Israel cried unto the Lord, the Lord raised up a DELIVERER (from YASHA meaning Saviour) to the children of Israel, who delivered them, even Othniel the son of Kenaz, Caleb's younger brother." Judges 3:9
Among others who are called saviors are Tola (Judges 10:1), Shamgar (Judges 3:31), Gideon (Judges 8:22), and Samson (Judges 13:5).
An acknowledgement that there is more than one Savior is clearly spelled out in several other verses: "Thou heardest them (the Israelites) from heaven; and according to thy manifold mercies thou gavest them SAVIOURS (from YASHA) who saved them out of the hands of their enemies." Neh 9:27
Another good one is: "And SAVIOURS (YASHA) shall come up on mount Zion to judge the mount of Esau; and the kingdom shall be the Lord's." Obadiah verse 21.
We already quoted a correlating verse to this from Rev 14:1 which tells us that the number of these "saviours" on mount Zion (Sion) will be 144,000. Thus the Bible tells us that there are at least 144,000 saviors. Common sense then tells us that we should not read passages which tell us of one savior or one God as literal, but in the light of all other scriptures.
We thus solidly establish point number four: Others beside Jesus are called by the name of Savior.
MAN CAN PERFORM MIRACLES
AS JESUS DID
One of the prime causes of religionists setting Jesus apart from us as a God in a different category from ourselves is the fact that he did so many great miracles that the average man or woman has not experienced in the present time. Therefore the fifth point to cover is the fact that even though miracles may not be common day occurrences that many have indeed been performed by people other than Jesus using the same principles.
Many have indeed been justly impressed by the miracles that Jesus performed. In his day it convinced many that Jesus was either the Son of God or God. Even today the miracles accredited to him carry much weight in convincing Christians that Jesus was God incarnate.
As great as Jesus was he said that the Father was greater than himself and "The Son can do NOTHING OF HIMSELF, but what he seeth the Father do…I can of mine own self do nothing…I seek not mine own will, but the will of the Father which hath sent me." John 5:19,30
Just before Jesus raised Lazarus from the dead he acknowledged his dependence on the Father: "Father, I thank thee that thou hast heard me." John 11:41 After saying this he raised Lazarus to life.
He also acknowledged: "The Father raiseth up the dead, and quickeneth them…" John 5:21 Interestingly, this was spoken in the present tense before the resurrection of Jesus.
We see from these and other scriptures that Jesus was just as dependent on a power greater than himself as ordinary men and women are dependent on powers greater than themselves to perform miracles: "I speak not of myself: but the Father that dwelleth in me, he doth the works." John 14:10
If a person believes that Jesus is God because of the miracles he performed that is all the more reason to believe that man can become as much of a god as Jesus was for he said: "He that believeth on me, the works that I do shall he do also; and GREATER WORKS THAN THESE SHALL HE DO; because I go to my Father." John 14:12 Again, Jesus gives the Father credit for miracles even that were performed by his disciples.
There are many examples of miracles performed by servants of God other than Jesus. Moses is perhaps the prime example. He brought plague after plague and even parted the Red Sea, brought and cured leprosy, and caused water to gush forth from a stone. The Spirit was so strong in Peter that the sick were brought into the streets hoping that his shadow would pass by them and heal them. Numerous miracles were performed by the disciples of Jesus. None of them claimed to have done it on their own power, but through one higher that was with them just as Jesus did.
Among the early Mormons there were also many miracles performed. The following is an interesting episode in the life of Joseph Smith:
"Many lay sick along the bank of the river, and Joseph (Smith) walked alone up to the lower stone house, occupied by Sidney Rigdon, and he healed all the sick that lay in his path. Among that number was Henry G. Sherwood, who was nigh unto death. Joseph stood in the mouth of his tent and commanded him in the name of Jesus Christ to arise and come out of his tent, and he obeyed him and was healed. Brother Benjamin Brown and his family also lay sick, the former appearing to be in a dying condition. Joseph healed them in the name of the Lord. After healing all that lay sick upon the bank of the river as far as the stone house, he called upon Elder Kimball and some others to accompany him across the river to visit the sick at Montrose. Many of the Saints were living at the old military barracks. Among the number were several of the twelve. On his arrival, the first house he visited was that occupied by Elder Brigham Young, the President of the Quorem of the Twelve who lay sick. Joseph healed him, when he arose and accompanied the Prophet on his visit to others who were in the same condition. They visited Elder W. Woodruff, also Elders Orson Pratt and John Taylor, all of whom were living in Montrose. They also accompanied him. The next place they visited was the home of Elijah Fordham, who was supposed to be about breathing his last. When the company entered the room the Prophet of God walked up to the dying man, and took hold of his right hand and spoke to him; but brother Fordham was unable to speak, his eyes were set in his head like glass, and he seemed entirely unconscious of all around him. Joseph held his hand and looked into his eyes in silence for a length of time. A change in the countenance of Brother Fordham was soon perceptible to all present. His sight returned, and upon Joseph asking him if he knew him, he, in a slow whisper, answered, 'Yes.' Joseph asked him if he had faith to be healed. He answered, 'I fear it is too late; if you had come sooner I think I could have been healed.'
"The Prophet said, 'Do you believe in Jesus Christ?'
"He answered in a feeble voice, 'I do.'
"Joseph then stood erect, still holding his hand in silence several moments, then he spoke in a very loud voice, saying, 'Brother Fordham, I command you in the name of Jesus Christ to rise from this bed and be made whole.' His voice was like the voice of God, and not of man. It seemed as though the house shook to its very foundation. Brother Fordham arose from his bed and was immediately made whole. His feet were bound in poultices, which he kicked off, the putting on his clothes he ate a bowl of bread and milk and followed the Prophet into the street." Taken from THE LIFE OF JOSEPH SMITH by George Q. Cannon, derived from the journal of Wilford Woodruff, the author's great great grandfather.
We could write several books documenting miraculous healings and other miracles performed by men and women in many different religions, Christian and non Christian. All miracle workers recognize, as Jesus did, the Spirit of one higher than themselves working through them.
Copyright by J J Dewey
JJ's Amazon page HERE
Gather with JJ on Facebook HERE