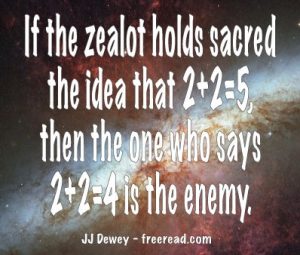 The Gods of the Bible, Part 2
THE NATURE OF GOD AND CHRIST
Orthodox Christian are greatly disturbed by both the teachings of Joseph Smith and the New Age teachings on God because the only concept of Higher Intelligence that they can conceive of is a single God who rules the universe. Therefore, when they are told that man can become or manifest God they think that is the height of arrogance, as if the man who believes such is claiming to be the king of all creation. They forget that the New Age concept of God is different from theirs. If we looked upon God as being separate from ourselves it would be arrogant to claim to be God, but if we look upon God as being of whom we are a part, then there is no arrogance. New Age people merely see God as the whole of life and to manifest God is to recognize that we are a part of that whole. In other words, our claim to manifesting God is based on the injunction of Jesus to be one with the Father and the Son. How can being one with God be anything else than being God, or identifying with the whole?
A drop of water is insignificant when it is removed from a giant wave, but when it is joined back into the wave and cooperates with it, it then becomes the wave. We are like drops of water that have separated from the Life wave we call God. When we join back in with the God wave we become one with it and we can say with all the other billions of lives: "I am the wave" or "I AM God". We have not lost the molecules that have made us the drop. We still have our identity, but we have much more. We are one with something much greater than ourselves to the extent we actually become the wave. We are a wave, yet one with millions of drops combined. We are God, yet millions of human drops combined. No life is separated from the life which is God.
This principle is not new and should not be thought to be esoteric for it is clearly taught in the Bible.
Paul spoke very clearly concerning the nature of Christ who is God: "Now there are diversities of gifts, but the same Spirit. And there are diversities of administrations, but the same Lord. And there are diversities of operations, but it is THE SAME GOD THAT WORKETH ALL IN ALL. But the manifestation of the Spirit is given to EVERY MAN to profit withal… (Then Paul enumerates on the gifts of the Spirit.) For as THE BODY IS ONE (the Wave) , AND HATH MANY MEMBERS (the many drops), and all the members (human lives) of that ONE BODY (GOD), being MANY, are ONE body, SO ALSO IS CHRIST (GOD). For by ONE SPIRIT we are all baptized into ONE body, whether we be Jews or Gentiles, whether we be bond or free; and have been all made to drink into ONE SPIRIT. For the body (GOD) is not one member (Life), but MANY (All lives together)…Now Ye are the body of Christ (GOD), and members in particular." I Cor 12:12-14,27
It should be obvious from this scripture that Christ is much more than the man Jesus and God is not just one entity sitting on a throne. Both Christ and God (or the Father) are one and manifest through one body, but that body is composed of many members. On earth, those who are members of the body of Christ are those who "know the love of Christ" and are "filled with the FULNESS OF GOD" (Eph 3:19)… "until Christ be formed IN YOU." (Gal 4:19) "To whom God would make known what is the riches of glory of this MYSTERY among the Gentiles: which is CHRIST IN YOU, the hope of glory." Col 1:28
"LET THIS MIND BE IN YOU WHICH WAS ALSO IN CHRIST JESUS: who being in the form of God, thought it not mockery to be EQUAL WITH GOD: But made himself of no reputation, and took upon him the form of a servant, and was made in the likeness of men…" Phil 2:5-7 "…That the life of Jesus might be made manifest in our body." II Cor 4:10
On earth the Bible teaches that Christ is composed of many members possessing the Spirit of God. Jesus, however, "is the head of the body, the church: who is the beginning, the firstborn from the dead." Col 1:18
Even though Jesus is the most important member of the body he is NOT the only member. We should not look upon him as being apart from us, or as manifesting God in a way that we cannot for we are commanded to have the same mind in us that was within him. Concerning Jesus Paul wrote: "…great is the mystery of godliness: God was manifest in the flesh…" I Tim 3:16 Since we are commanded to be of the same mind as Jesus then we should also manifest God in the flesh.
This is verified by a correct translation of John 1:14. In the King James it reads: "And the Word was made flesh and dwelt among us, (and we beheld his glory, the glory as of the only begotten of the Father,) full of grace and truth."
The word "among" is from the Greek EN which is almost always translated as "in" not "among." Let us render a more correct translation here in harmony with the ancient language:
"And the Word is BECOMING flesh and dwells IN US. And we beheld His (or Its) glory, a glory like an only begotten from the Father full of grace and truth.
In fact we are promised that we shall manifest God beyond our comprehension. Jesus said: "He that believeth on me, the works that I do shall he do also; and GREATER WORKS than these shall he do; because I go to my Father…At that day ye shall know that I am in my Father, and ye in my, and I (Christ) IN YOU.: John 14:12 & 20.
It is interesting to note that Jesus never did directly refer to himself as "The Christ". In referring to himself he always used the title: "son of Man". Thus Jesus, the man, humbly associated himself with humanity. He never spoke the word "Christ" in relation to himself exclusively as others did. In fact there are only four occasions in the Bible where he actually spoke the word. Example: "But be not ye called Rabbi: for one is your Master, even Christ; and all ye are brethren." Matt 23:8. Example: "For whosoever shall give you a cup of water in my name, because you belong to Christ, verily I say unto you, he shall not lose his reward." Mark 9:41
Jesus referred to Christ in the third person because the title of Christ did not belong to him alone but to all members of the body that partake of the Spirit of God. Because Jesus referred to the Christ in the third person and did not directly proclaim himself as such the Jews were led to exclaim: "How long dost thou make us to doubt? If thou be the Christ, tell us plainly?" John 10:24 Even to this direct question Jesus did not proclaim himself to be the Christ. He did not want to set himself up on a pedestal, but identified himself as a Son of Man so the sons of men would look for the Christ within themselves.
Paul said that Jesus manifested God in the flesh (I Tim 3:16) and also that we are to have the same mind as he. On the other hand, because one is manifesting God is not cause to be worshipped by others because God is in them also. Jesus refused to let others exalt him as an idol God or even as a good man any more than his brethren. For instance after a man called him good he said: "Why callest thou me good? There is none good but one, that is God." Matt 19:17 In other words, there is only one life we are to exalt and that is the universal God-life that is in us all for he said: "God is a Spirit: and they that worship him must worship him in spirit and in truth." John 4:24.
The Christian world is happy to proclaim that Jesus is God as if he is something we can never be. This is not what Jesus or any of the scriptures says. On the contrary the Bible says: "No man hath seen God at any time…" John 1:18 and "God is a Spirit". Now Jesus was a man who lived in the flesh and later raised his flesh from the dead and was felt by the apostles and even ate with them. He was seen by thousands of people and when he said "God is a Spirit" he was dwelling in mortal flesh. If Jesus is the one and only God, how is it that he was flesh and bones and was seen by thousands when "no man hath seen God"???
If Jesus in the flesh was God then who was the invisible Spirit he told us to worship?
When I ask Christian Fundamentalists this they merely shake their heads and say it is a great mystery we are not supposed to understand. Such an action reminds me of the words of Paul: "For the time will come when they will not endure sound doctrine; but after their own lusts shall they heap to themselves teachers, having itching ears; and they shall turn away their ears from the truth, AND SHALL BE TURNED UNTO FABLES." II Tim 4:3-4
The truth is quite simple to understand and the Bible is indeed correct when it says: "No man hath seen God" for God is verily one invisible Spirit "dividing to EVERY MAN severally as he will." I Cor 12:11 God has divided (or reflected) himself so he dwells in billions of lives on this and other worlds. Beings who have manifested that One Life as Jesus did are sometimes called Gods because they become one with the ONE GREAT LIFE, but it doesn't matter whether that manifestation is through Jesus, Paul, or Shirley MacLaine we are not seeing the invisible God we are only seeing his works. That is why Jesus said: "Though ye believe not me, believe the works: that ye may know, and believe, that the Father is IN ME, and I in him." John 10:38
Jesus mentioned the Christ on another interesting occasion: "While the Pharisees were gathered together, Jesus asked them, Saying, What think ye of Christ? Whose son is he? They say unto him, the Son of David. He saith unto them, How then doth David in Spirit call him Lord saying: The LORD said unto my Lord, Sit on my right hand, till I make thine enemies thy footstool? If David then call him Lord, how is he his son? And no man was able to answer him a word, neither durst any man from that day forth ask him any more questions." Matt 22:41-46
No one answered the question of Jesus. If David acknowledged the Christ as his Lord then how could he be his son? The Father is supposed to be Master to the son. The answer is that Jesus, the man, was the son (or descendant) of David, but the universal Christ was not. It dwells in us all including David and is the son of no man.
There is no indication in the Bible that Jesus intended himself to be thought of as a Christ or God any more than other men ought to be. After all, he called himself "the son of man" a title previously given to ordinary humans. He also called all men, even the "least" of them, his "brethren": "Inasmuch as you have done it unto one of the least of these MY BRETHREN, ye have done it UNTO ME." Matt 25:40 Here is Jesus' plain and simple acknowledgement that even the lowest of men have Christ and God in them just as Jesus did for what we do to then we do to Christ.
This is not surprising for Paul in speaking of the followers of Christ said: "For whom he did foreknow, he also did predestinate to be conformed to the image of his Son, that he might be the firstborn among many brethren." Rom 8:29
Jesus, as all believers know is called the firstborn, but here we find that ordinary men and women may even share that title with him for Jesus and the rest of the sons of men are brethren with a similar destiny as taught by Paul: "For both he that sanctifieth (Jesus) and they who are sanctified (followers of Christ) ARE ALL OF ONE: for which cause he is not ashamed to call them brethren." Heb 2:11
We are supposed to come to "the knowledge of the Son of God, unto a perfect man, unto the measure of the stature of the FULNESS OF CHRIST." Eph. 4:13
To accomplish this Jesus taught that we are supposed to follow in his footsteps: "To him that overcometh will I grant to sit with me in my throne, even as I also overcame, and am set down with my Father in his throne." Rev 3:21
If we are to overcome as Jesus did we must examine the key ingredient by which Jesus overcame the world. He revealed this in the statement: "I am come in my FATHER'S NAME, and ye receive me not: if another shall come in his OWN NAME, him ye will receive." John 5:43
This is an amazing statement. Jesus   tells us that he was rejected because he bore the name of God whereas if another will come and teach them, not making any claims of God in man (or bearing the Father's name), but simply teach as a man in his own name, that this they will accept.
This is still true in the religious world today. Any teaching that humans and God are one is immediately rejected and the teachings of men in their own name (as men) are accepted.
THE NAME OF GOD
The Fathers name is mentioned a number of times by Jesus and is an interesting subject. He said he came in his Father's name. He also said: "I have manifested thy name unto the men which thou gavest me… and I have declared unto them thy name, and will declare it." John 17:6&26
Apparently Jesus used the name of the Father over and over, but there is no statement in the Bible where Jesus actually said plainly "The Father's name is…" If it ever was in there then it was taken out by the compilers of the scriptures. On the other hand we will show the name is still there and can be proven with a careful reading that the name of the Father is the same as the Son. That is the name of Christ! That may be startling, but it makes sense when we consider that the scriptures tell us that Christ created all the worlds, but also God created the heavens and the earth.
Now for the proof. First, as we mentioned, Jesus came in the name of the Father and manifested that name over and over. This indicates the name of the Father was Christ because that was the name Jesus came in and manifested.
Second, he did his works in the "Father's name". John 10:25 He did his works in the name of Christ.
We are also told that the name of Christ is "Far above all principality, and power, and might, and dominion, and EVERY NAME THAT IS NAMED, not only in this world, but also in the world to come." Eph. 1:21
Jesus said that "My Father is GREATER than I." John 14:28. Therefore, if the Father and the Son have separate names then the Father's name would have to be greater. But we are plainly told that the name of Christ is greater than "every name that is named" in this and the next world therefore then only way the Father could have the greatest name is if his name is also "Christ".
Obviously, the Father and the Son are not one entity as conventional Christianity seems to think or Jesus would not have said that his Father was "greater" than he was, but they are separate entities partaking of the same One Great Life which is God. They are two drops who realize they are the wave.
The Holy Ghost, the third member of the Godhead, also bears the same name. Jesus told his apostles: "Go ye therefore, and teach all nations, baptizing them in the NAME (singular) of the Father, and of the Son, and of the Holy Ghost." Matt. 28:19
Obviously, there is one name for all the members of the God family.
Now we can make sense of the writings of Paul: "For this cause I bow my knees unto the FATHER of our Lord Jesus Christ, Of whom the WHOLE FAMILY IN HEAVEN AND EARTH IS NAMED." Eph. 3:14-15
The word cannot be much clearer than this. The whole family of God in heaven and earth is named after the Father. Jesus is, of course, part of that family so he bears the highest of all names – the name of Christ. But the scripture goes farther than this. It says that God's family on earth also bears his name. How does the family of God on the earth bear the name of the Father? It is written" "God at the first did visit the Gentiles, to take out of them a people FOR HIS NAME…that the residue of men might seek after the Lord, and all the Gentiles, UPON WHOM MY NAME IS CALLED" Acts 15:14 & 17.
Here we are plainly told that the early Christian church which was formed by the Gentiles was called after the name of the Father. What was that??? They were called CHRISTians or the "body of Christ".
This all makes sense. After all when a Father has a son here on the earth the Son bears the Father's name. Would not the Gods do the same?
This knowledge helps shed some light on other scriptures. Jesus said: "The Son can do nothing of himself, but what he SEETH THE FATHER DO: for what things soever he doeth, these also doeth the Son likewise. For the Father loveth the Son, and SHEWETH HIM ALL THINGS THAT HIMSELF DOETH: and he will shew him greater works than these, that ye may marvel. For as the Father RAISETH UP THE DEAD, and quickeneth them; even so the Son quickeneth whom he will…For as the Father hath life (God) in himself; so hath he given to the Son to have life (God) in himself." John 5:19-21, 26
Jesus explains here the principle of eternal progression. That is he has a teacher whom he calls the Father and he has learned what he knows by watching him. He was speaking here before there had been any resurrection and said he had already seen the Father raise the dead. Jesus received his power over death by watching the Father and obtaining from him the keys of eternal life within.
When did Jesus watch the Father overcome death? It was on another world whereon his Father was a savior and Jesus was one of his disciples. That is why the Father also has the name of Christ and his people must bear his name. The things that Jesus did we must eventually do. All of us need a teacher to show us the possibilities of man.
Now we can see that the previously quoted statement of Joseph Smith seems to make sense: "Jesus is one of a grand order of Saviors. Every world has its distinctive Savior and every dispensation its Christ."
In reality everyone who manifests the Spirit of Christ is both a Father and a Son for progression is eternal and when we are learning we are Sons. When we are teaching we are Fathers. Jesus was a Son in relation to his Father, but a Father in relation to his disciples. On the other hand the Father, or teacher of Jesus will also have one above him who is his Father. Thus the Father-Son-Father-Son relationship stretches from men and women who manifest Christ clear up to the One Great Life whose physical body is the universe. "For he that is high hath another higher, and there are others still higher than these." Eccl 5:8 Thus the life of the One Universal God can touch the lowest lives in creation. In this way Christ is the creator and savior of the universe, but the One Life is composed of trillions of individual entities like you and me.
The scripture says that the family of God both in heaven and on earth is named after the Father. This means that there is a God family on earth bearing the name of Christ. This has an outward symbol with the name Christian or body of Christ, but the meaning goes deeper than this. We are told that the redeemed have the "Father's name written IN their foreheads." Rev 14:1
What does it mean to have the name of Christ, or God in your forehead? It means that we accept the fact that Christ is in us and that we are one with him, and if we are one with him we are Gods as he is. No wonder Jesus stated "Ye are Gods" and Paul told us to have the mind of Christ within us.
The importance of not denying the name of God is stressed (See Rev 3:8). Indeed! It is a denial of the name of God to deny the statement of Jesus: "Ye are Gods". We must accept the fact that we are "filled with the FULNESS OF GOD" (Eph 3:19) or we deny the God in us and the kingdom within which is the only place it will ever be found.
Another interesting name for God is Jehovah. This name is derived from HAYAH which is the statement given to Moses when he asked for the name of God. In the King James version the reply reads: "And God said to Moses, I AM THAT I AM: and he said, Thus salt thou say unto the children of Israel, I AM hath sent me unto you." Exodus 3:14
This sounds confusing to many but a more literal translation sheds additional light: "And God said to Moses I AM BECOMING WHAT I AM BECOMING…" Or as written in my Book The Immortal: "I AM BECOMING THAT WHICH I DECIDE TO BECIME."
This may still sound a little confusing, but Moses understood the answer perfectly. Names in ancient times were viewed differently than they are today. In our day if I introduce myself as Joe or Joseph that is all it means, just a sound to be known by. However, names in the days of Moses told people about themselves. For instance, Joseph then meant "he will be added upon", David was "Beloved" and Abraham: "Father of a multitude". In those days when you knew someone's name you supposedly knew something about the person and his destiny. Therefore, the most natural question a person in ancient days would want to ask God would be his name. His name would tell us how he is different from everyone else and what is his destiny. Could the great Unknowable have a name? Moses wondered. Would God give him a name that would describe the kind of character he is and end the great mystery once and for all?
Moses, I am sure, was surprised with the answer. Instead of getting something like "My name is Zilgooser which means the Great One Who Sits in the Heavens" or something like that he received a simple and direct: "I AM BECOMING WHAT I AM BECOMING… Go tell the children of Israel that the One who sent you IS BECOMING."
If Moses had not heard this from God himself he would have never believed it. God is still in the process of BECOMING or evolving. That means that God himself has not reached the ultimate. There is still something around the corner for Him to become. There are new worlds to conquer, even for God. He is becoming whatever the hell he wants to become and is certainly not in the box where believers want to place him.
Moses never did present this name he was given to Israel, probably for fear that he would be laughed out of Egypt. Surely God knows who he is. Instead, Moses introduced it in a more palpable altered form as JEHOVAH (or YAHWEH) which is usually interpreted to mean "The Eternal".
Nevertheless, the first name given to Israel is the more glorious and reflecting upon it brings great enlightenment. The whole universe is in a state of change and "BECOMING" and God is the One Great Life that embodies the universe. Every life in the universe shares its life with God including man who is becoming, and, in reality, no name will fit any of us for eternity for what we will be tomorrow is different than what we are today and since we are one with God that means that God, also, will be different tomorrow.
For instance in the Old Testament He was called Jehovah, in the New Testament he was known as Christ, the anointed, and in the future a new name will be announced: "Him that overcometh will I make a pillar in the temple of my God, and he shall go no more out: and I will write upon him the name of my God, and the name of the city of my God, which is new Jerusalem, which cometh down out of heaven from my God: AND I WILL WRITE UPON HIM MY NEW NAME." Rev. 3:12
Is the new name "I AM BECOMING?" You never know.
Now we see why God says "Behold, I make ALL THINGS NEW." Rev 21:5 The perfection that is attributed to God by man is not taught in the Bible as we shall show a little later. Because it is never achieved God keeps making everything "new". He creates a "new" Jerusalem, "new" kingdoms, a "new" heart in man, a "new" heavens and earth, a "new" song, he gives us "new" names and will even give himself one. When the One Great Life changes then things become new.
Can you think of anything worse than reaching a static condition where there was no change and nothing new to look forward to? That is the main criticism I have heard of the Christian heaven. Many people naturally say: "I do not want to go to heaven where there is perfection and no new goals to set for ourselves." The truth is that would not be heaven but hell. It would not be life, but death. Even among the people in the churches with this belief one can see the seeds of death. The people are lifeless and lead boring lives. Many having fun in the bars are closer to becoming what they will become and therefore closer to God. This makes us reflect on the words of Jesus to the pious people of his day: "The publicans and harlots go into the kingdom of God before you." Matt. 21:31
Copyright by J J Dewey
JJ's Amazon page HERE
Gather with JJ on Facebook HERE